Govs. Scott Walker, Rick Perry And Rick Scott Join Fox & Friends Offering Mitt Romney Campaign Advice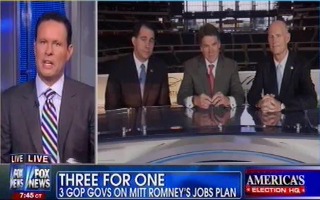 On Friday, Brian Kilmeade interviewed three Republican governors, Florida Gov. Rick Scott, Wisconsin Gov. Scott Walker and Texas Gov. Rick Perry, about the state of former Massachusetts Gov. Mitt Romney's presidential bid against President Barack Obama. Perhaps unsurprisingly, the governors praised the Romney campaign and said that he can win as long as he runs on a message of reform.

Kilmeade turned to Walker and recalled how he had just recently won a statewide race in June on a message of continued reforms. "What could Gov. Romney take from you that would help him on the national scene," asked Kilmeade.
"You've got to take on tough issues," said Walker. He said that independent and swing voters turned toward his campaign precisely because he was offering hard choices on the state's budget crisis.
Kilmeade asked Scott a similar question, saying that he had taken a big hit in his popularity polls due to his choices. "My race in 2010 is exactly the same as the race this year," said Scott. "It's all about Jobs." Scott praised Gov. Perry's record in Texas and said that Romney should aim for a similar record.
Kilmeade turned to Perry and asked how Romney could do what he has done for Texas' job market. Perry said that it was the new crop of Republican governors that had turned the nation's unemployment crisis around. "If this country's going to get back on track, Mitt Romney's got to be the president," said Perry.
Kilmeade asked Walker if Romney has become the reformer that Walker said earlier in the cycle he needs to be in order to beat the president in the fall. Walker said that choosing Wisconsin Congressman Paul Ryan to join him on the ticket because that shows a willingness to be bold. "I think he needs to build on that now to show that he's got a plan to create more jobs in the private sector and to get this budget balanced," said Walker.
"I think if Governor Romney wants to win, he'll utilize you guys throughout the next 45 days," Kilmeade concluded.
Watch the segment below via Fox News Channel:
> >Follow Noah Rothman (@Noah_C_Rothman) on Twitter
Have a tip we should know? [email protected]