Govt. Issues Bombing Guidelines to People of Guam: Don't Look Into the Blast
The United States government is issuing guidelines to the people of Guam in response to North Korea's threats this week that they are assessing a strike on the U.S. territory in the Pacific Ocean.
Eddie Calvo, the governor of Guam, issued a video on Friday reassuring citizens of the island that there is no sign of an imminent threat and that the territory is "safe and sound":
In an MSNBC segment on the threat to Guam, NBC reporter Miguel Almaguer noted from Tamuning that while the governor gave those words of reassurance, the island's Homeland Security department issued a "stern warning for those who life here to be prepared in the event of a ballistic missile attack."
The statement said that in the event of a strike, people "should 'take cover, take shelter immediately, not look towards what could be the blast area in fears of being blinded,'" Almaguer said.
The two-page factsheet advising Guamanians on how to prepare for a missile strike from North Korea tells citizens to "take cover as quickly as you can" if an attack warning is issued, and, if caught outside, to "not look at the flash or fireball."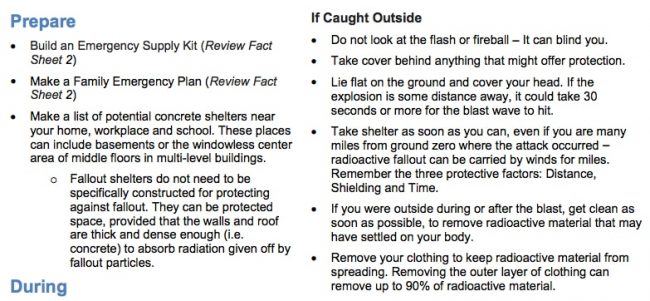 North Korean military officials announced they were assessing a plan to send missiles into the sea off the coast of Guam in response to President Donald Trump's warnings this week that the hermit kingdom tamp down its fiery rhetoric against the United States.
Trump has since continued to issue forceful warnings to North Korea, and on Thursday even said that his initial "fire and fury" remarks may not have been tough enough.
[image via screengrab]
—
Follow Aidan McLaughlin (@aidnmclaughlin) on Twitter
Have a tip we should know? tips@mediaite.com
Aidan McLaughlin - Editor in Chief