Gov't Official On Leave Following Benghazi Investigation Speaks Out: 'Goal Is To Restore My Honor'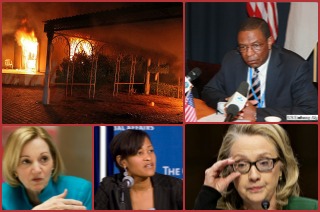 "The overall goal is to restore my honor," Raymond Maxwell recently told The Daily Beast. The mid-level State Department official was put on leave in the wake of an Accountability Review Board report into the failures which led to the deadly attack on an American consulate in Benghazi. Today, he is speaking out and accusing former Secretary of State Hillary Clinton's closest advisors of scapegoating him.

Following an internal investigation into the failures that led to the Benghazi attack, Maxwell, the former Deputy Assistant Secretary for Maghreb (North Africa) Affairs, was placed on administrative leave. He told The Daily Beast's Josh Rogin that he had plans to retire in September of last year, but committed to remain on voluntarily after the attack in order to help his bureau within State proceed with an investigation. Now, Maxwell says he refuses to retire until his name is cleared.
"They just wanted me to go away but I wouldn't just go away," Maxwell told The Daily Beast. "I knew Chris [Stevens]. Chris was a friend of mine."
RELATED: Michelle Malkin: Hillary Clinton's 'Jenga Tower Of Lies' On Benghazi Is 'Crumbling Down'
He says that that Beth Jones, Assistant Secretary of State for Near Eastern Affairs, placed him on indefinite leave at the direction of close Clinton aide Cheryl Mills.
Rogin notes that this decision was at odds with the actual findings of the ARB report which found "systemic failures and leadership and management deficiencies at senior levels within two bureaus of the State Department" — the Near East and Embassy Security bureaus.
But Jones was not disciplined in any way following the release of the report, nor was the principal deputy assistant secretary of State at NEA, Liz Dibble, who is slated to receive a plush post as the deputy chief of mission at the U.S. embassy in London this summer. In the DS bureau, the assistant secretary, principal deputy, and deputy assistant all lost their jobs. In the NEA bureau, only Maxwell was asked to leave.
Maxwell told Rogin that he was told he would be brought back on as a "senior advisor" once the Benghazi controversy had subsided, but that never occurred.
State Department officials told Rogin that Maxwell admitted to the ARB that he had failed to read his intelligence briefings and was disciplined for that infraction. "The State Department began an administrative process to review the status of the four individuals placed on administrative leave. That review process continues and Secretary Kerry will be briefed with an update, and decisions will be made about the status of these employees," said State Department spokeswoman Jennifer Psaki. "This internal administrative process can take some time."
Read the full report via The Daily Beast
> >Follow Noah Rothman (@NoahCRothman) on Twitter
Have a tip we should know? tips@mediaite.com