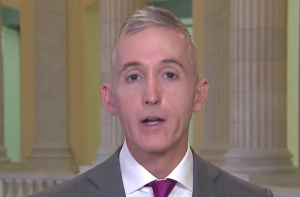 Chairman of the Congressional Benghazi committee Trey Gowdy hit back at fellow Republican Kevin McCarthy Tuesday morning for his comments suggesting that the only purpose of the committee was to hurt Hillary Clinton politically.
"Kevin is not on the Benghazi committee," Gowdy said on MSNBC's Morning Joe. "Kevin, I'm sure, doesn't know we've interviewed forty-one witnesses that none of the previous committees have interviewed, including seven eyewitnesses. I would just respectfully ask folks to look at what we've done and look at October 22nd and you'll see a fact-centric, professional fair hearing…"
"You and I both like Kevin very much, he's a great guy," host Joe Scarborough said. "I can't imagine how angry I would be if I were in your position, working nonstop to bring credibility to what I consider to be a very important investigation, and then a guy who I consider a friend and ally undercut you this way."
"Well, he is a friend, but my first reaction is, 'Kevin, you're wrong,'" Gowdy said. "When Speaker [John Boehner] called me, he never mentioned Secretary Clinton's name. In fact, we've had three public hearings, Joe. I never mentioned her name."
"If you look at what we've done, the 50 some odd witnesses we've already interviewed, not a single one has been named Clinton. The 50,000 documents we have accessed no other committee has accessed, less than 5% had anything to do with her."
Watch above, via MSNBC.
[Image via screengrab]
——
>>Follow Alex Griswold (@HashtagGriswold) on Twitter
Have a tip we should know? tips@mediaite.com