Granderson's Stand Against Rangel Was Great, Until You Hear What He Once Said About Slavery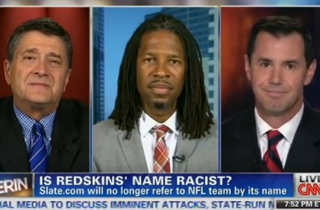 Back in August of 2013, I was invited to a CNN program I would go on to appear on quite often: Erin Burnett OutFront. Topics varied but primarily focused on media and pop culture. But on that night, I was brought in to debate the controversy around the Washington Redskins name.
My position has always been quite clear on the topic: Let the consumers decide. If fans stop buying tickets, stop buying the merchandise and start protesting outside of Redskins home games (thereby creating a media swarm and subsequent PR nightmare for Daniel Snyder), only then will the owner–who paid $800 million for a team in 1998 that is worth three times that much today–be compelled to sell it.
But fans keep attending (Top 3 in attendance once again this year despite another sub-par squad), jerseys keep selling and there haven't been any protests outside of FedEx Field again this year. Throw in the fact that poll after poll both locally in the DC area and nationally says by a strong majority that the team name should not be changed despite a politically correct media demanding the organization do so, and you have a pretty good argument for keeping the name.
That August evening we were joined (Erin and I were in New York while the other guests came in over satellite, hence the "we") by CNN contributor LZ Granderson and talk show host Michael Medved. Everything went pretty much like every other debate on the Redskins until the very last sentence by Granderson as the segment was ending, which was one of those, "Did he really just say that?" moments.
Via the official CNN transcript:
GRANDERSON: …It's about morality and it just seems to be immoral to continue to do that.

CONCHA: Also not what the fans want, L.Z., as well. Eight in 10 say don't change it.

GRANDERSON: I'm sure if black people, if they were put to a vote, black people would still be out in the field. So, let's not talk about morality put up to a vote.
The key part of that of the first sentence is "still be out in the field." Americans wouldn't vote otherwise even today? All of that said…with Granderson having actually said that once on national television, it's odd to hear him denounce Rep. Charlie Rangel's reckless comments around Republicans believing slavery still existing today.
In case you missed those comments, here they are verbatim:
"…Saying those kinds of things are absolutely ridiculous and have no place in politics, it has no place in the Democratic Party! And if you think what he said is true, then I'm just going to tell you the truth: You're an idiot!" he continued. "Because slavery, and that time period, does not exist today!"
But if it was put up to a vote, slavery very well might still exist today.
Seem to recall somebody saying that on the same network a year ago August.
As the old saying goes: "Pain is temporary. Film is forever."
Watch my original segment with Granderson below:
— —
>> Follow Joe Concha on Twitter @JoeConchaTV
Have a tip we should know? tips@mediaite.com