Grandmother Shoots Her Son-In-Law Three Times; He Records Entire Thing On iPhone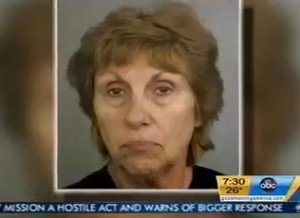 On Monday morning's GMA, correspondent Matt Gutman introduced the story of Sal Miglino, a Florida man locked in a bitter divorce dispute with his wife. He had come to his mother-in-law's house to pick up his son, but felt that something crazy was about to happen. So he turned on his iPhone camera and recorded video of the meeting. Moments later, his mother-in-law, Cheryl Hepner, 66, pulled a gun out, firing three shots at Miglino and hitting him twice, in the shoulder and rib cage. Somehow, Miglino managed to grab the gun from her, race to his SUV, and drive off.
Hepner and Miglino both called 911, but Hepner told the operator that Miglino had pulled the gun and shot at her. Miglino's call, laced with heavy breathing, told the opposite story:
"She f***ing shot me!"
Authorities, who had taken Miglino's phone as evidence, charged it and found the video. It doesn't actually show Hepner shooting Miglino, but the sounds and voices are there, and it was more than enough for investigators to arrest Hepner.
"As evidence goes, it was a gem," Dani Moschella, spokeswoman for the Broward County Sheriff's Department, tells GMA, "that absolutely corroborated everything that Mr. Miglino had told detectives."
Miglino, according to Gutman, is already out of the hospital, but still has the two bullets inside of him. Police said that the only reason Hepner fired just three shots is because the gun jammed. Hepner is charged with first-degree attempted murder.
Watch the full clip of Gutman's report below, courtesy of GMA:
Have a tip we should know? tips@mediaite.com