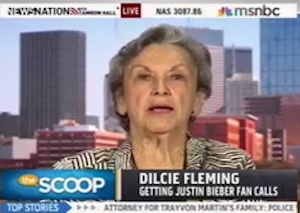 Appearing on MSNBC's NewsNation with Tamron Hall, 81-year-old Dilcie Fleming spoke out publicly about her frustration over being deluged with thousands of prank phone calls from Justin Bieber fans at all hours of the night. "I didn't know what was going on," Fleming lamented. "I answered the phone only because i thought maybe it was a family member– and then I explained to them that that wasn't justin's phone number. I hung up and my phone rang again. And it went on and on!"
Bieber had tweeted 9 out of 10 digits of an alleged phone number, asking his 19 million followers to "Call me right now," when all of a sudden, Fleming's home came under assault with tweens calling 24/7.

Hall asked when she realized all of the prank phone calls were coming from Beliebers.
"Well, after a while I got to thinking, I didn't understand all of this," Fleming explained "I don't know the young man or anything. But I had seen his picture in my daughter's magazines that she had and that way, then I was familiar with who he was. But that was all. I'm not a follower of his and I'm sure he is a very nice young man. But this must be a joke that just didn't turn out like they thought it would."
Fleming also revealed Bieber never reached out to her or said he was sorry.
Hall questioned whether she was going to file a lawsuit against the pop star.
"I'm not suing him," Fleming revealed. "All I would like to have is an apology from him and possibly concert tickets for two great grand daughters…I would like for it to quit."
Watch Fleming described being pranked by Bieber's fans below via MSNBC:

Have a tip we should know? tips@mediaite.com