'Great Exposed Lie Of Bush Admin': David Gregory Absolves Obama Of Blame For Disastrous Russian 'Reset'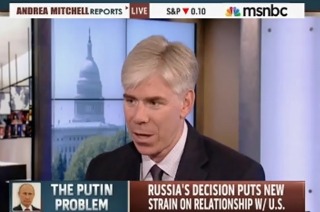 President George W. Bush continues to serve as a punching bag for prominent members of the media when attempting to absolve president Barack Obama and his administration of fault for virtually any outcome resulting from his policies which is perceived as suboptimal. On Friday, Meet the Press anchor David Gregory engaged in this dubious pasttime when he determined that – in spite of an intensive, years-long diplomatic outreach effort on the part of the Obama administration – the fact that Russian President Vladimir Putin cannot be trusted is "the great, exposed lie of the Bush administration."

MSNBC host Andrea Mitchell began the segment by observing that Putin's decision to ignore "personal calls from President Obama" to extradite National Security Agency leaker Edward Snowden amounts to Russia's latest "slap in the face" to the U.S and its interests.
"The difficulty is you're not dealing with somebody that you can trust," Gregory observed. "That was the great exposed lie of the Bush administration, is that the U.S. really can't trust Putin."
Gregory must have entirely forgotten the vaunted "reset" with Russia that the Obama administration regarded as one of their most pressing diplomatic priorities when taking office in 2009. Gregory must have forgotten his interview with then Secretary of State Hillary Clinton in the summer of that year where she detailed the steps the administration planned to take to execute that "reset."
Beginning almost immediately, this White House's efforts to achieve a diplomatic breakthrough with Russia were almost entirely unilateral. One of the Obama administration's first steps were to cancel plans for radar and interceptor missile installations in the Czech Republic and Poland – defensive installations which Russia had insisted threatened their security. Though it greatly angered America's Central European partners, the Obama administration sacrificed this commitment on the altar of the "reset."
They went ahead and unilaterally reduced America's nuclear weapons and fissile material stockpile. The concession that the Russians gave were to commit to decommissioning many of their strategic ICBMs, SLBMs, and bombers – the vast majority of which were slated to be removed from service anyway.
Russia's responses to these good faith overtures were to block any action in the United Nations to prevent Iran from developing a nuclear weapon, to support and arm Bashar al-Assad's bloody regime in Syria, halt the adoption of needy Russian infants by American families, and to harbor Snowden as a fugitive from American justice.
In February, the New York Times reported that the administration – frustrated by the lack of reciprocity from Russia and an increase in that nation's violations of human rights – abandon negotiations to sign a New START nuclear arms treaty and quietly shifted its to a policy of "disengagement" from Russia.
There is a "great, exposed lie" here, but it is not one of the Bush administration's making. While Obama's predecessor certainly had his failures when dealing with Putin's Russia, the craven and brazen claim that Putin is not an honest broker having somehow been exposed as a "lie" of the Bush-era is beyond comprehension.
Anti-Russian sentiment is as high and bipartisan in Congress as it has been in a generation. Lawmakers and administration officials alike are calling for everything from a boycott of the 2014 Olympics in Sochi to the abandonment of the G-20 Summit in St. Petersburg. The Obama administration has presided over this spectacular collapse of bilateral relations – but, of course, it's Bush's "lie" that has been exposed.
Russia has been attempting to get the West's attention with its hostile actions for some time. Now that they have it, it is important for the United States to reengage Russia in a realistic way. The only "great, exposed lie" is Gregory's effort to sugarcoat how naively the Obama administration approached relations with Moscow and how chastened they are by that experience today.
> >Follow Noah Rothman (@NoahCRothman) on Twitter
Have a tip we should know? tips@mediaite.com