Great Moments In Journalism: TODAY Interviews Annie Lobert, "Hooker For Jesus"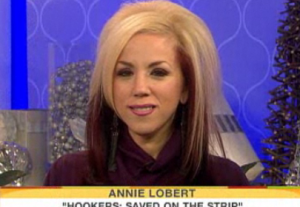 Thanks to our friend Meredith Vieira, you've pretty much got the cover you need to watch the new Investigation Discovery series Hookers Saved on the Strip.
This morning on NBC's TODAY, Vieira sat down with the star of the three-part documentary, Annie Lobert, a self-styled "hooker for Jesus" who still works the strip, but now on a mission to save girls still involved in prostitution. Sounds like colorful fare for three-nights of viewing, but if you're worried about critical comments from family or friends, rehearse saying this:
"I heard about it from Meredith Vieira on the TODAY Show." Who's your buddy now?
Talking to Lobert, Vieira asks how a middle-class kid who "went to church" ended up working as a stripper and call girl in Vegas?
"I'm just the type of person who when you give me a rule, I try to break it. I was very rebellious growing up. I didn't believe what the church taught at the time. I didn't see any sense in having rules, so it was very easy for me to be very promiscuous at a very early age."
Lobert says the lure of fast, easy money convinces many girls to get into the life: "You can make anywhere from a thousand dollars–that's a bad night"
"I wanted it right now, like a microwave."
The danger, though, it the catch. Being abused–and seeing friends killed–reformed Lobert and set her on the "Hookers for Jesus" mission to save other girls–all part of the documentary that premieres December 8.
Watch the interview here, from NBC. And remember: "Meredith tipped me to this show."
Have a tip we should know? tips@mediaite.com