Greenwald Pushes Back Against Lauer's 'Accusation' That Snowden Aided Russia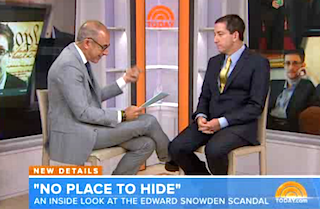 In one of his first major interviews since returning to the United States from Brazil, Glenn Greenwald sat down for an interview with Today's Matt Lauer that turned tense when the host suggested that former NSA contractor Edward Snowden may have betrayed his country to receive temporary asylum in Russia.
Noting that Russia is known for it's "intrusive surveillance techniques against its own citizens," Lauer asked Greenwald how Snowden "squares" his host country with "the beliefs he holds so dear."
"He didn't choose to be in Russia, Matt," Greenwald said, pointing out that Snowden was trying to travel through Russia to reach Latin America but the U.S. revoked his passport before he could make it there. "The question is why do we put whistleblowers in prison and force them to flee to other countries?" he asked.
"There are people who just can't accept the idea that he hasn't turned something over to the Russians in exchange for that temporary asylum, because he was running out of options," Lauer countered. Considering all the information Snowden took from the NSA, "You're going to tell me Putin didn't ask for that?"
"Anyone can make up any accusation that they want, and rational people demand evidence before they believe it, which is the lesson we ought to have learned from the claims from government officials that Saddam Hussein had weapons of mass destruction," Greenwald responded. "There is zero evidence that he did any such thing," he said, adding, "The last thing he would have done is cooperate with a foreign government."
Lauer ultimately admitted that, as Greenwald has reported, by the time Snowden got to Russia, he no longer had NSA documents in his possession.
Watch video below, via NBC:
Visit NBCNews.com for breaking news, world news, and news about the economy
[Photo via screengrab]
— —
>> Follow Matt Wilstein (@TheMattWilstein) on Twitter
Have a tip we should know? tips@mediaite.com