Greenwald Slams Obama On Fox & Friends: Targeting Snowden 'To Intimidate Future Whistle Blowers'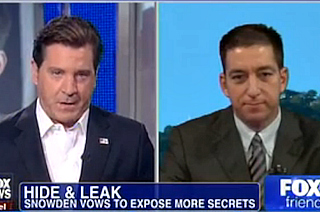 Guardian reporter Glenn Greenwald made a rare Fox News appearance Tuesday morning, teasing new national security revelations and harshly criticizing the Obama administration for targeting NSA leaker Edward Snowden so as to discourage future disclosures.
"What the Obama administration wants…is to make it so that everybody is petrified of coming forward with information about what our political officials are doing in the dark that is deceitful, illegal or corrupt," Greenwald told Fox and Friends' Eric Bolling. "They don't care about Edward Snowden at this point. He can no longer do anything that he hasn't already done. What they care about is making an extremely negative example out of him to intimidate future whistle blowers from coming forward because they'll think they're going to end up like him. That's their objective."
Since leaving Hong Kong, Snowden has been hiding out in a international netherworld inside the Moscow airport. But on Tuesday morning asylum denials began to pile up, leaving his next move even more uncertain.
"Obviously he wants to stay out of the clutches of the U.S. government, given the way they persecuted whistle blowers," Greenwald said. "He's obviously trying to find a place where he can do that. His real goal is continue to be part of the conversation about why he did what he did."
Greenwald also fired back at his peers who have intimated that the should be legally culpable for his role in Snowden's leaks, noting that New York Times writer Andrew Ross Sorkin has apologized for his comment but that Meet the Press host David Gregory has not.
"Thomas Jefferson, 250 years ago, said those who most fear investigations are the ones who attack free press first," Greenwald said. "This is what journalism is about, shining a light on what the most powerful people in the country are doing to them in the dark. So we're going to continue to do that no matter what David Gregory and his friends say."
Greenwald has also hinted at new leaks from the prolific Snowden, but refused to give Fox the exclusive. "You're going to have to wait along with everybody else until our stories are published," Greenwald said. "I will say that there are vast programs of both domestic and international spying that the world will be shocked to learn about, that the NSA is engaged in with no democratic accountability."
Watch the interview here, via Fox News:
—
>> Follow Evan McMurry (@evanmcmurry) on Twitter
Have a tip we should know? tips@mediaite.com