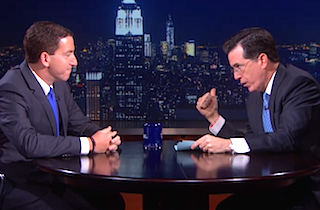 Glenn Greenwald's media tour to promote his new book, No Place to Hide: Edward Snowden, the NSA, and the U.S. Surveillance State
, continued last night when the journalist sat down for an extended interview with Stephen Colbert. Like Matt Lauer did yesterday and David Gregory did long before that, Colbert grilled Greenwald over his and Edward Snowden's intentions and possible culpability in revealing national secrets.
Greenwald was laying out why he finds the NSA surveillance system so troubling when Colbert stopped him to point out that no one would even know about it if Snowden hadn't leaked the information and Greenwald hadn't published it. "Aren't you kind of the problem?" the host asked.
"Of course, ignorance is bliss," Greenwald to Colbert. "And that's why you're so happy, right? That's why you're beaming with joy." On a more serious note, Greenwald said that the point of journalism is to "shine a light" on what those in power are trying to hide. "And that's what we did," he added.
RELATED: Greenwald Bashes 'Neocon' Hillary Clinton: 'She's a F*cking Hawk'
Echoing Gregory's question from last June, Colbert asked Greenwald why he should not be prosecuted for "aiding and abetting and enemy of the United States." While that argument has been made over and over again in similar situations in the past, Greenwald said his actions will ultimately do more good than harm for the country.
Greenwald got a large cheer from the Colbert Report audience after the host asked if he's trying to "undermine the confidence of the American people in their own government."
"When they're doing things that deserve to have confidence in their actions undermined, yeah, it is a good idea for that to be revealed," Greenwald said.
Watch video below, via Comedy Central:
[Photo via screengrab]
— —
>> Follow Matt Wilstein (@TheMattWilstein) on Twitter
Have a tip we should know? [email protected]