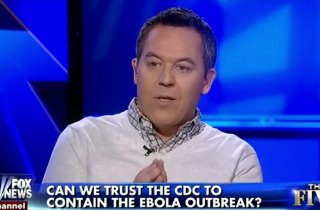 "This is ideology as a sport," Fox host Greg Gutfeld said Monday of the pundits, left and right, who have rushed to blame political opponents for two cases of Ebola in the United States.
Gutfeld and his Five co-hosts were reacting to a new pro-Democratic Party ad that connects the Republican Party's support for CDC and NIH funding cuts to the arrival of Ebola in the U.S. Several liberal pundits have taken that logic a step further, suggesting it was "probably no accident" Thomas Eric Duncan died in Rick Perry's firmly red state of Texas.
"The Democrats did this with Hurricane Katrina, and remember that somehow Bush killed all these people," Gutfeld told his colleagues before aiming at both sides, acknowledging that conservative pundits on his own network commit the same ideological mistakes:
But as the leftists blame Rick Perry and the sequester, the right also blames Obama for spreading Ebola. We had somebody on this very network who said that. His name rhymes with Ablow, right? Keith Ablow. It is different sides of the same coin. We are both guilty of this and we should probably avoid blaming people for tragedy.
Gutfeld was likely referring to Ablow's groan-worthy suggestion last week that President Obama wants America to suffer and thus may take less of a stand in preventing the spread of Ebola throughout the United States.
As for Democrats pointing fingers at the GOP, Gutfeld said: "Blaming budget cuts is absurd and it's disrespectful to the taxpayers who have to hand over billions of dollars to the NIH who then see a tiny percentage of that money going to building facilities when it goes to God knows what else. It's not about funding, it's about being the responsible use of the funds."
Watch below, via Fox:
— —
>> Follow Andrew Kirell (@AndrewKirell) on Twitter
Have a tip we should know? tips@mediaite.com