Greg Gutfeld: Is Cable News To Blame For Republicans Not Being Able To Pick A Candidate?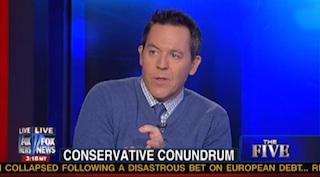 Perhaps owing to the fractious and unsteady state of the GOP primaries, it's been a particularly introspective week on The Five, with the hosts looking at the race and then looking inside themselves. First, Kimberly Guilfoyle revealed that, despite what's been said on the show, she actually thinks President Obama will win in 2012. Then, Eric Bolling, finally seeming to realize that Rick Perry might not take the candidacy, started switching up gears. Now, as the week ends, Greg Gutfeld wondered aloud if part of the blame in the GOP's indecisiveness might lie at the feet of cable news itself.
RELATED: FoxNews.com Not Too Thrilled About Its Exclusion From Facebook's 'Most Shared Articles' List
The segment started with Gutfeld doing one of his joke-filled rants about how Republicans need to be less picky. Things were pretty typical; wistful references to Chris Christie, random insults for the "Chicken Littles" who believe in Climate Change, and Gutfeld accusing the media of going easy on Obama despite the fact that he, at that very moment, was on the number one-rated cable news network and was calling the President "farther left than a yoga mat." Then, though, Gutfeld posited an intriguing theory:
GUTFELD: Kimberly, I wanted to ask you, are we to blame for some of this?

GUILFOYLE: Yes.

GUTFELD: The cable news revolution means there's more hours of news to explore a candidate, whereas that never happened with Nixon. It never happened with Reagan.
Guilfoyle agreed, saying that voters are more inclined and able to pick candidates apart. She explained that this was especially true with the "24-hour news cycle."
Considering the show is now clearly self-aware, it should be no surprise that she then turned to the camera and quickly added "Which I love, by the way."
Watch the clip from Fox News below:
Have a tip we should know? tips@mediaite.com