Greg Gutfeld Is Sick And Tired Of Rehashing Sarah Palin Speculation: 'We've Done This Segment 48 Times'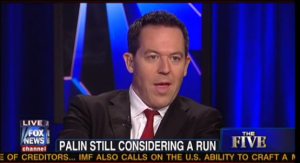 On Wednesday's edition of Fox News' The Five, the panel again speculated on whether Sarah Palin would run for president in 2012. Greg Gutfeld said he was "sick and tired" of speculating this same subject for the umpteenth time. "We've done this segment in the last two months, I've counted it, 48 times!" Gutfeld groaned.
The segment was preceded by an ambiguous statement Palin made on last night's Hannity continuing to leave open the possibility that she still might run for president. "In this primary. I think people are still going to be coming and going because there is still time. And I'm still one of those still considering," Palin said. "But I do think, Sean, this is going to be such an unconventional election cycle. … Mark my word, it is going to be an unconventional type of election process."
Panelist Juan Williams pointed out that in a new poll, Palin was closing in on President Obama.
Monica Crowley thought it was not too late for Palin to jump into the primary race, but the "long, drawn-out tease had to end", and it was time she "fish or cut bait."
Williams asked Gutfeld his opinion about whether he thought Palin would run, to which the visibly exasperated anchor expressed pain at having to discuss this same topic yet again.
"Here's the thing, this reminds me of the season of Friends — remember the one with Ross and Rachel, were they ever going to get together?" Gutfeld snarked. "This is exactly playing out that way and after a while I just got sick and tired of it…I've had it."
Gutfeld agonized that this was the 48th time the panel had recycled the same discussion.
"And what you're seeing right now is a repeat of the segment, because we're outside smoking!"
Watch the segment below, courtesy of Fox News:

Have a tip we should know? [email protected]