Greg Gutfeld Likes Bill Maher's No Apologies Idea: They Are Insincere, 'Like Counterfeit Money'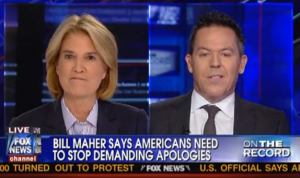 Bill Maher penned an op-ed in The New York Times on Thursday, asking for us all to just stop apologizing already. He asked, why do we think "we have the right to never hear anything we don't like?" Appearing on Greta Van Susteren's show, Fox News' Gret Gutfeld surprised even himself by saying he agreed with Maher. We need to stop apologizing, he said, because the apologies are not sincere.
RELATED: Bill Maher's NYT Op-Ed Plea: 'Stop Apologizing!'
Gutfeld said Maher "has a point" and elaborated:
We've gotten to this apology exhaustion […] When somebody gets offended they demand an apology from one side. The other side says the same thing. The most important thing about the apologies is that they are fake, and you wouldn't want an apology from somebody who doesn't mean it. When somebody says something very, very vile about women, and you demand an apology, do you really think that apology is going to be sincere? Of course not. […] Hate him all you want, ignore him but never demand an apology. Because it is like counterfeit money, it is not real.
Gutfeld and Van Susteren both agreed with Maher's idea of an "amnesty from apologies." Gutfeld quipped, "The definition of edgy for a liberal comedian is making fun of conservative women. That's their game.
He continued: "And the only people that go for it is the audience that they already have. So all you can hope for is for that audience to wither away, which I believe will happen because his act is getting old." In the meantime, he said, "don't waste your breath demanding apologies becase the apologies aren't real."
Maher has a point, Gutfeld reiterated, and it's "really, really weird because it might be the first time Bill Maher has ever been right in his life."
Take a look, via Fox News:

Have a tip we should know? tips@mediaite.com