Greg Gutfeld On The Five: Why Do Liberal Professors Always Think 'Patriotism Sucks'?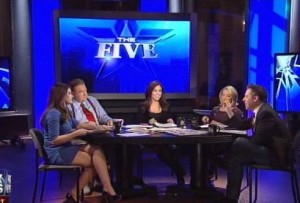 Two days removed from the Super Bowl, The Five took on one surprising controversy: was there too much patriotism at the game? Professor Tricia Jenkins argued as much in The Washington Post when she railed against the "militarized pageantry" that merely exists at sporting events for "cheap thrills and public relations opportunities."
RELATED: Columnist Accuses Audi Of Glorifying Violence In 'Rapey' Super Bowl Ad, Battles Conservatives Who Defend It
Gutfeld rebutted the professor with thoughts of his own on the state of liberal academia.
"Why is the default position for academics always 'patriotism sucks'? They laugh at you for loving their country, but what do they love, really, besides tenure and Noam Chomsky. Their patriotism, it seems, is always for the enemy, or rather anyone who lives to make America look bad. If only Ahmedinejad could do a flyover, it'd be okay."
Bob Beckel pushed back against Gutfeld including "the left" in his commentary, saying that most liberals (nor most academics, for that matter) don't have a problem with celebrating patriotism at big sporting events.
Gutfeld wondered if pop culture has effectively "replaced" patriotism for many people, given people's worship during the Super Bowl of things like consumerism and Beyoncé. Andrea Tantaros said that it's perfectly oay for Jenkins to "not love America" during the game, but asked why she had to write about it. Kimberly Guilfoyle was amazed at how people like Jenkins are trying to attack "the symbol that guarantees our rights" in an argument about exercising said rights just to make a point.
Watch the video below, courtesy of Fox News:
—–
Follow Josh Feldman on Twitter: @feldmaniac
Have a tip we should know? tips@mediaite.com
Josh Feldman - Senior Editor