Greg Gutfeld Takes To Megyn Kelly's Show To Rail Against 'Self-Righteous Jerk' Jim Carrey's Anti-Gun Video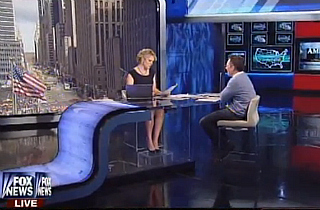 Making a rare appearance on Fox's daytime programming, Greg Gutfeld continued his campaign against actor Jim Carrey, appearing on Megyn Kelly's show to explain why he believes the celebrity is "the most pathetic tool on the face of the earth."
Carrey released a Funny or Die video on Monday that lambasted the pro-gun movement, mocking the late Charlton Heston's famous "from my cold dead hands" speech and painting gun advocates as unconcerned with child safety. Gutfeld took to his Fox show, The Five, last night to tear into the actor for his "cowardly" video.
"I don't remember ever seeing you this fired up," Kelly said to Gutfeld this morning before reading snippets of her colleague's anti-Carrey monologue from Monday.
"It was an attack on southerners, midwesterners, people with a drawl," Gutfeld explained. "He really is a moron."
"Who cares what Jim Carrey has to say?" Kelly asked, pressing Gutfeld on why he bothered to get so upset over what an actor did on a comedy website.
Gutfeld responded that some of his colleagues have told him to ignore the video, "so it doesn't get any play," but the Red Eye host explained that "Charlton Heston doesn't have that choice … Why can't I say it sucks? And why can't I say he's a coward?"
"But why is he a coward?" Kelly asked.
"He is poking fun at them for owning guns, which is a luxury he doesn't have to worry about because he has a bodyguard that is already armed," Gutfeld said before claiming that the actor is a "pseudo-intellectual" who "has never really been validated as a smart person."
Later in the segment, Gutfeld called Carrey a "self-righteous jerk" who make people choose a side in the gun debate because of their "sanctimonious" arguments. He also repeated the anti-Carrey theme that the actor is "irrelevant" and promoting gun control while making millions off films with gun violence featured prominently.
Watch below, via Fox:
Have a tip we should know? tips@mediaite.com