NBC's David Gregory Chides Bloomberg: 'How Far Will You Go?' With Banning Things In New York City
David Gregory Chides Bloomberg: 'How Far Will You Go?' With Banning Things In NYC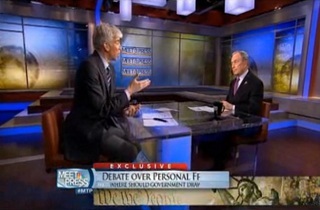 David Gregory pushed New York Mayor Michael Bloomberg on Meet The Press to defend his recent push to ban the sale of large sodas within city limits. Gregory peppered the mayor on just how far he will go to ban things that are "bad" for people in New York.
Bloomberg defended his efforts to ban the sale of large sodas by knocking the judge that struck down the measure and saying that what he proposed was not actually a ban. "We're not banning anything. All we're saying is we want to show you just how big the cup is. If you want 32 ounces take two cups to your seat, if you want 64 ounces, carry four. But our hope is if you only take one you won't go back," he told Gregory.
The reasoning for the legislation, in the eyes of Bloomberg, is that smoking is a major public health problem that is now, in many ways, worse than smoking or starvation. He estimates that it costs city hospitals approximately $5 billion a year.
Gregory pressed him on salt and sodium causing death, asking if the mayor would go so far as to ban salt shakers. "We're not banning anything," a defensive Bloomberg said.
"All we're trying to do is educate," he added.
Gregory wouldn't let up though.
"As the executive of New York City you are telling people what they can and cannot do.Why is that government's job to do," Gregory asked.
"We're not telling them at all. We're telling them what science says is in their interest or isn't in their interest," answered Bloomberg.
Bloomberg was vague in answering what he thought was going too far by listing things he thinks it's okay for the government to ban like drunk driving and carrying a gun on a plane.
"I do not think we should ban most things," he said.
Watch the clip below via NBC
Have a tip we should know? tips@mediaite.com