Gregory Grills Bridgegate Investigator: Did New Jersey Dems 'Hold Back' Until Christie Was 'Weakened?'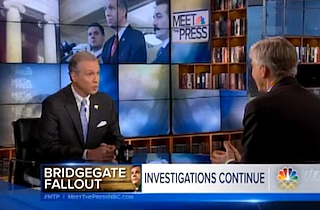 Meet the Press' David Gregory interrogated New Jersey Assemblyman John Wisniewski (D) on Sunday morning over whether his investigation into Governor Chris Christie's administration, and the piling on from other New Jersey Democrats who had formerly supported the governor, was politically motivated.
"You just described it as a pattern you're hearing more and more of," Gregory said to Wisniewski. "The only pattern that's been in evidence is how much support he's had from elected Democrats in your state…They held back until he looked weakened by this other issue?"
Wisniewski said he didn't know what had prompted Hoboken Mayor Dawn Zimmer to come forward with her allegations of corruption in Sandy relief funds now—Zimmer herself was asked that question herself almost simultaneously on CNN's State of the Union—but argued that her allegations warranted investigation. "We don't know where it goes, we don't know if there's more to it, but I think it's something the committee has to consider in the overall investigation," he said.
Wisniewski also insisted that he had not come to any conclusions before the completion of his investigation, despite comments that it is "hard to believe" Christie did not know of the George Washington Bridge lane closures.
"You say no rush to judgment," Gregory said. "You've talked about the specter of impeachment before you've gathered all this information."
Wisnieski argued that he had in fact called impeachment talk "premature," and added that the allegations he was investigating had come from outside sources like the Wall Street Journal.
[Image via screengrab]
——
>> Follow Evan McMurry (@evanmcmurry) on Twitter
Have a tip we should know? tips@mediaite.com