Greta Blasts 'Pathetic' WH Press Corps For 'Caving' To Obama's 'Off The Record' Chat As Consolation For 'Golf-Gate'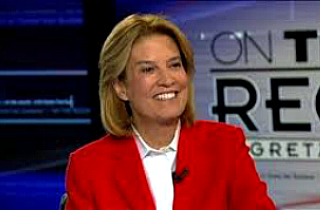 On her GretaWire blog this afternoon, Fox News host Greta Van Susteren slammed the White House Press Corps for "caving" to President Obama's offer for an "off the record" chat. The meeting was offered as consolation for the corps' restricted access to the president's weekend golf match with Tiger Woods.
"THE PRESS CAVED – PATHETIC!" read Van Susteren's headline.
"I can understand the President wanting privacy this weekend and also not wanting to get seen in a pic with Tiger Woods," Van Susteren conceded, but then hit at the president for playing golf while the impending budget sequestration has American families "worried."
"What I don't get is how the press AGREED to an OFF THE RECORD discussion with the President in the back of Air Force One on the way home from the vacation," she continued. "The press sold out the American people."
"What is the point of speaking to the President if you can't report what was said?" she asked. "Were the members of the press so awe struck that the President would wander to the back of the plane and give them a few minutes of attention that they agreed not to report it? The press totally caved. They failed us."
Her condemnation of the WHPC's actions is especially noteworthy given that her colleague Ed Henry is the president of the association.
Nevertheless, the continued to hit hard at the press corps: "The press should have said when offered OFF THE RECORD face time with the President , 'thanks but no thanks…we will wait until the President is willing to talk to the American people since that is our job ..No secret conversations.'"
— —
>> Follow Andrew Kirell (@AndrewKirell) on Twitter
Have a tip we should know? tips@mediaite.com