Greta Van Susteren Helps Sarah Palin Shine Her Media Spotlight Towards Haiti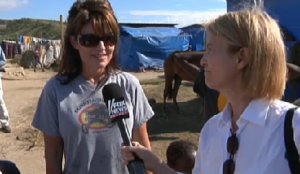 Last night Greta van Susteren revealed footage of her trip to Haiti with former Governor Sarah Palin, Rev. Franklin Graham, and Graham's relief organization, Samaritan's Purse. Although Palin is unable to do much other than learn how to build a house, watch people wash their clothes, and hand out Christmas gifts, Palin's visit enables the worsening situation in Haiti to receive renewed interest and much needed media coverage for a crisis that has been unfortunately forgotten.

Many might view Palin's visit as self-serving and a necessary credential for establishing foreign policy credentials in case she does run for President. However, it's equally possible to view Palin as someone who is conscious of the media's fascination with her every move and who decided to use her media magnetism for a greater cause. In fact, Sean Penn, who just announced he would be skipping a film festival to return to Haiti, should proudly extol Palin's efforts. Palin is touched by what she witnessed, saying the devastation:
Puts things in perspective. Reminds us as Americans, those who have so much that I think we're put on this Earth and our nation is in existence to reach out and to help those that are less fortunate.
That statement is as political as Palin gets in the clip, and that's hardly something to find offensive. As Palin distributed gifts to Haitian children, she concluded that it is universal that kids everywhere want presents. What also should be universal is admiring anyone's desire, no matter their political affiliation, to visit a country in crisis and do whatever they can to help.
The only element slightly troubling is Greta's willingness to be Palin's exclusive reporter for the trip and be subjected to criticism that Greta is acting merely as Palin's mouthpiece. Given the apolitical nature of the trip and the importance of the issue, it seems excusable this time. However, with increasing credibility, Palin should be confident enough to soon allow anyone to come along for the ride.
Watch the clip from FOX News below:

Have a tip we should know? tips@mediaite.com