Greta Hits NYTimes' Brian Stelter For CNN Guest-Hosting Gig: 'Talk About Conflict Of Interest And Hypocrites!'
Fox News' Greta Van Susteren is not taking the news well that New York Times' media reporter Brian Stelter will be guest-hosting CNN's Reliable Sources next month. In a blog post Tuesday, Van Susteren called Stelter's move a "conflict of interest" and labeled him a "hypocrite" for his paper's criticism of her husband's ties to GOP presidential candidate Herman Cain.
"You have to love this one!" Van Susteren exclaimed, calling out Stelter, "whose VERY job is to critique the cable news media" for agreeing to guest-host CNN's show that critiques cable news media. She wrote he "is now either hustling CNN or the other way around…there is no clearer conflict of interest."
"PS This is the same New York Times who criticized ME because my husband (not me) is friends with Herman Cain!" she continued. "No one ever said I pulled my punches or criticized my interviews–the New York Times just objected to who my husband, not me, occasionally had dinner with." Van Susteren says she expects Stelter will "trash me now with his collection of anonymous sources because I dared to call him out."
It was Stelter's media colleague Jeremy W. Peters who wrote about Van Susteren's husband's relationship with Cain, a fact she did not disclose on-air before interviewing the candidate. More recently, the Times' Bill Carter confirmed a story first posted by Mediaite about Van Susteren's talks with CNN about a move to that network.
UPDATED: Stelter tweeted a response to Van Susteren about her assertion.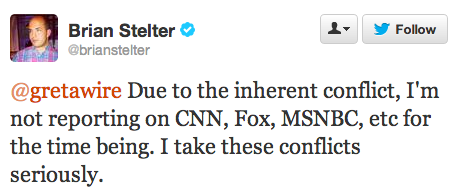 —
>> Follow Matt Wilstein (@TheMattWilstein) on Twitter
Have a tip we should know? [email protected]