Greta, Karl Rove Take On Limbaugh Over 'Manufactured' Sequester: Washington Has 'Profoundly Failed Us'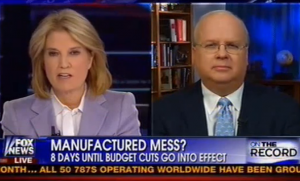 Following up on Rush Limbaugh's frustrations about being "ashamed" of his country over a "manufactured" sequestration crisis, Greta Van Susteren invited on Karl Rove to respond. Not entirely agreeing with that sentiment, Rove additionally offered the Republicans some advice.
RELATED: Limbaugh Goes Off: 'For The First Time In My Life, I Am Ashamed Of My Country'
Asked whether we're facing a "manufactured" crisis, like Limbaugh said, or a real one. It's real in the sense that we have a "huge spending problem" and need to start somewhere, in terms of cuts. If not, the deficit will "suffocate" our country.
Tough luck, Van Susteren said. President Obama came up with idea and the Republicans went along with it — and now they have "profoundly failed us" in resolving the issue. No sympathy from her.
But a resolution can't come without presidential leadership, Rove argued — and we've yet to see that. Even if we reach some sort of bipartisan agreement and end this ordeal on a better note, Van Susteren asked, is there anything to prevent the additional spending next year?
"The actions of one Congress can't bind a future Congress," Rove said, which is why we need elected officials to be "committed" to the long-term plan. Republicans would do well to give Obama some flexibility, he added, so it's not an across-the-board cut, but some areas would see deeper cuts than others.
If they don't agree to that, however, Van Susteren followed up, "is that just about winning?" It's not, Rove replied, because Obama hasn't asked for it — so it'd be a smart move.
Additionally, Republicans have the power of "oversight," meaning they can hold the president accountable.
Take a look, via Fox News:

Have a tip we should know? tips@mediaite.com