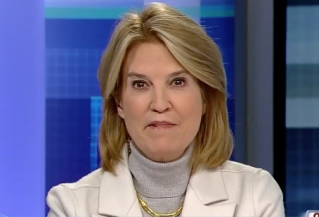 In a Tuesday interview with Page Six's Cindy Adams, cable news star Greta Van Susteren revealed she's unsure she would have stayed with Fox News if it meant staying in the 10 p.m. slot.
Van Susteren's On the Record moved to 7 p.m. late last year as part of Fox's primetime reshuffle. Prior to that, we reported that she reached out to CNN chief Jeff Zucker for a potential move.

She denied the report, but her Post interview suggests she might have considering leaving after all.
"Not sure I'd have signed another 10 p.m. deal," she said. "We stayed Number One but 7 p.m.'s a whole new audience that's interested in a political schedule. At 10 at night they're ready for bed. With this deal I got a big raise. Yet for months I was trashed in stories about how I'm being pushed away."
After several outlets reported the quote yesterday, Van Susteren took to her blog to add more of her thoughts:
The 7pm is better ONLY because it is an adventure and is new to me. I had been at 10pm for 11 1/2 years and the 10pm lost its feeling of adventure.

If I had been at 7pm for 11 1/2 years, I would have felt the same about the 7pm time slot ….and the 10pm would have been a new adventure.

Each time slot is very different …and it is fun to do something new. It is exploring. It may seem odd…but the audience appetite is different at different hours….and even how we arrange the break structure in the show depends on the hour.
[h/t Gretawire]
— —
>> Follow Andrew Kirell (@AndrewKirell) on Twitter
Have a tip we should know? tips@mediaite.com