Greta Slams 'Jerk' Fox Colleague Erick Erickson: 'What Is Wrong with This Guy?'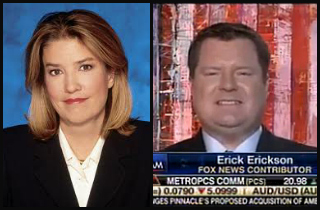 On Monday afternoon, Fox's On the Record host Greta Van Susteren went after her own colleague Erick Erickson, lamenting his "pattern of being disrespectful to women" by citing several recent comments made about Texan gubernatorial candidate Wendy Davis.
"What is wrong with this guy? He is such a jerk! He is a repeat offender!" Van Susteren headlined a blog post calling out Erickson. Her basic case: The conservative pundit makes himself look really bad by coming off as a "jerk" who is "boorish and obnoxious" when expressing political disagreement with female politicians.
"Sometimes if you are smart in your debate, you persuade someone who otherwise had disagreed with you," she said. "And then there are the creeps who take cheap shots because they are too ignorant and small to engage in an important discussion. The best they can do is make themselves look really bad."
Citing several anti-Davis tweets from Erickson, Van Susteren wrote: "I suspect this guy feels that he makes himself relevant or even important if he says or tweets like this. I just roll my eyes and wonder what is going on in his head!"
The tweets she cited:
So Abortion Barbie had a Sugar Daddy Ken. No exactly the bio she claimed. http://t.co/hXboCZYzjC

— Erick Erickson (@EWErickson) January 19, 2014
I love how alpha male @WendyDavisTexas sounds when she's angry. https://t.co/kEZMgFDaig

— Erick Erickson (@EWErickson) January 22, 2014
Wendy Davis is upset you want the truth and she can't handle it. She's so cute when she's lying.

— Erick Erickson (@EWErickson) January 21, 2014
Noting that Erickson also tweets about his daughter, Van Susteren wrote: "I wonder how proud his daughter would be of him if she knew that he tweeted insults about women. It is one thing to disagree ..but he tweets insults."
Despite Erickson being a paid contributor to Fox News, Van Susteren didn't immediately recognize his name as a co-worker, writing, "He has never been on TV with me," but after a quick glance she found her previous post on him from May of last year, titled: "Have these men lost their minds? (and these are my colleagues??!! oh brother… maybe I need to have a little chat with them) (next thing they will have a segment to discuss eliminating women's right to vote?)"
That post, by the way, was referring to Erickson's infamous FBN segment with Lou Dobbs, in which the pair lamented the rise of the female breadwinner as particularly hazardous to American society. Fellow Fox Newser Megyn Kelly later destroyed the pair, asking them, "Who died and made you scientist-in-chief?"
Oh, also, just as an FYI: Mediaite readers voted Erick Erickson the worst conservative commentator of 2013.
UPDATE: As one would likely predict, Erickson responded with the Twitter equivalent of a giggle:
This is pretty awesome…. http://t.co/Jq6acI1w20

— Erick Erickson (@EWErickson) January 27, 2014
UPDATE II: He also added another dig at "Abortion Barbie," because abortion:
Well, Abortion Barbie does have a vocal fan club. Might be larger except for the open season on anyone under 40 weeks.

— Erick Erickson (@EWErickson) January 27, 2014
— —
>> Follow Andrew Kirell (@AndrewKirell) on Twitter
Have a tip we should know? tips@mediaite.com