Greta Tells Arizona Candidate His Plan To Cut Off Power For Illegals Is "Mean And Cruel"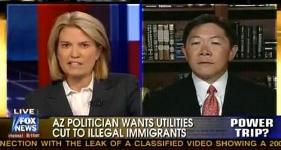 Greta Van Susteren blasted Republican candidate for Arizona Corporation Commission, Barry Wong, on her blog earlier this week for "being cruel." His plan? Cut off power to illegal immigrants.
The FNC host got a chance to interview Wong last night, and she didn't hold back.
"I think your idea – I hate it, and I think it's mean and cruel," she told Wong.
Wong tried to explain his point of view. Here's part: "Pushing the limits and the capacity of power generating stations, [would] contribute to accelerating the construction of more expensive power plants."
But Greta wasn't buying it. "To me it's just flat out cruel and I think there are so many more effective ways," she told Wong. "I do, sir with all due respect, I hope your proposal absolutely fails and falls flat."
Wong appeared on Fox & Friends yesterday and Your World last week, and although the interviewers in each case strongly questioned his tactics, no one held him to account like Greta. And this comes from an FNC host who doesn't agree with the government solution either – she says the case brought by the federal government against Arizona is either "poorly drafted" or a "lousy argument."
But it is Van Susteren, as the less polarizing, legal mind at the end of the FNC prime time line-up, who can step up in these cases to make the strongest arguments against certain ideas from the Republican extreme. Maybe even more effectively than her prime time competitors at MSNBC and CNN.
Here's the interview last night:

—–
» Follow Steve Krakauer on Twitter
Have a tip we should know? tips@mediaite.com