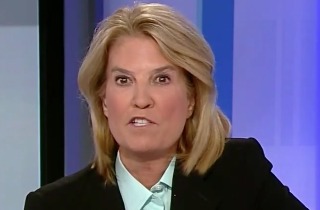 Fox News anchor Greta Van Susteren on Thursday joined the chorus of media people that thinks Kaci Hickox, the nurse who treated Ebola patients in West Africa, should stop riding her bike around and stay home quarantined.
On her Gretawire blog, Van Susteren said she didn't like the way some public officials spoke about Hickox as if she had committed a crime rather than returned from a country where she was helping the sick. She said, however, that Hickox shouldn't "declare war" against New Jersey Gov. Chris Christie, who ordered Hickox's quarantine, by defying cautionary health protocol:
People are afraid — and whether that fear is justified or not — she should not 'declare war.' She would be smarter to just work this out…and if she loses the quarantine fight? I recommend she just 'throw in the towel' and get some movies and stay home. This is really not worth the fight even if she is right. This is not to say fighting for principal or even for science and medicine is never a good thing – I usually think it is – but this is just not the time or the one to do it. Nurse Hickox has done great work, made a big sacrifice caring for very sick people and this big fight over a 21 day quarantine is not how she wants to have her great sacrifice remembered.
Hickox, who is so-far asymptomatic of Ebola and now in Maine, has defied government officials who have called on her to self-quarantine. She responded to them by threatening to sue Christie.
[Photo via Fox News/screen grab]
— —
>> Follow Eddie Scarry (@eScarry) on Twitter
Have a tip we should know? tips@mediaite.com