Van Susteren Accuses Howard Kurtz Of 'Not Doing Your Homework' On Fox News Segment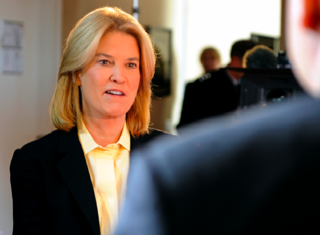 Well, that didn't take long: Greta van Susteren took a few minutes out of her Sunday afternoon to respond to a segment earlier today on Reliable Sources, where host Howard Kurtz argued that he did his best to cover scandals at CNN and that those at Fox News should be more vocal in doing the same. But in focusing on the lack of coverage on Fox News Watch, he seems to have forgotten On the Record, which van Susteren was more than happy to publicly remind me of.
Van Susteren wrote a note a few hours after Reliable Sources directly to the show's host on her blog, Gretawire, which read, rather simply, that he was wrong and that she had taken to a public forum because she had been ignored previously:
On your CNN show today in which you were critical of Fox News Channel and what you say is Fox's lack of coverage on the hacking scandal, you neglected to mention that on ON THE RECORD at 10pm we have, in our last two live broadcasts, covered the news story. We did it in a responsible manner. I urge you to go back and check. It was just the facts and no sugarcoating. Your omission today skews a fair analysis.

I should add that I am sending you this message publicly because last time you did not do your homework on another topic I politely sent a message to you privately. Greta
A curt, but not rude, critique, though it can be quite a stab in the heart to tell Kurtz– who boasts the naturally rule-abiding disposition of your elementary school vice principal– that he did not do his homework. To be fair, while Kurtz did argue that to not cover the story would betray a double standard as he called the Fox News Watch commercial break coverage "embarrassing," he kept up a tone of devil's advocate throughout the segment, even at one point arguing that CNN had covered the story too much because of its own interests in competing with Fox News. He also admitted that the idea of not covering a story that affected one's own company hit home for him because he had delved into CNN scandals on his program, and as such, in some ways, expected others of his ilk to subscribe to the same standards. But at no point during the segment was there any indication that Fox News' primetime division was giving the story the time of day, which cast a serious shadow on whether or not the network was giving the story a fair shake.
Given that Van Susteren admits in her piece that Kurtz has not responded to previous correction pleas in private, it will be interesting to see whether this will develop into a public discussion of journalistic integrity and correction policy– both are active on Twitter, after all, and the climate is ripe for a public discussion on the topic– whether that topic be how to address an internal scandal or how to publicly address inaccurate coverage of coverage of an internal scandal.
Have a tip we should know? tips@mediaite.com