Greta Van Susteren And Karl Rove Target The Real Villain Of The Limbaugh 'Slut' Story: David Gregory?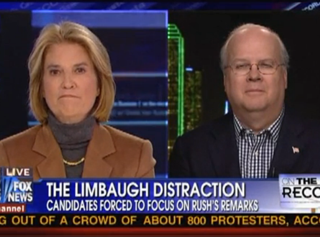 A cardinal rule of time-wasting media non-scandals is that every single person vaguely related to the media world must weigh in on ever tiny detail of every angle of said non-scandal, so an exasperated Karl Rove took to the airwaves today to discuss the 2012 Republican campaign and the potential of Iran nuking Israel out of existence, but ended up talking about Sandra Fluke. Except, unlike in most programs in which the tawdry story of how Rush Limbaugh called Fluke a slut came up, host Greta Van Susteren didn't ask about the actual comments involved, but about an interview on Meet the Press, and the segment quickly became an attack on… David Gregory?
RELATED: Greta Van Susteren: Your Voice Is Needed Against Limbaugh's 'Slut' Remark
"God bless Speaker Gingrich for taking him out behind the bar and giving him a whooping," was the crux of Karl Rove's opinion on the Limbaugh story, except the person being taken out to the bar was David Gregory. Van Susteren noted that it was bizarre Gregory would dare go there because "Speaker Gingrich practically took the skin off of John King" over a totally unrelated issue. Van Susteren noted that it was as if the media kept "giving Speaker Gingrich the ball so he could shove it down our throats." The two laughed and moved on. And that was all that was spoken on the program about the "Limbaugh distraction."
The argument the two made was legitimate, in the sense that the Limbaugh story is a complete distraction that prevented Americans from discussing real issues and exposed the sleaziest elements of both the left and right media– radio hosts so desperate for attention they will appeal to the lowest common denominators and complete unknowns that will play the victim to ham it up for the camera. That this story is a story should be an embarrassment to any decent American.
That said, such a story is not an uncommon phenomenon, and when the show has been on the other ideological foot, Van Susteren has been among the first to pounce. When Tucker Carlson— who, unlike Limbaugh, is both well-spoken and has not consistently humiliated the conservative movement for the better of three decades– permitted his website to expose some vile comments Mike Tyson made about Sarah Palin, Van Susteren called Carlson himself a "pig" (Carlson didn't seem to need much help defending himself against Van Susteren on her program shortly thereafter). So Carlson gets called a "pig" and yelled at for the better of an entire segment because of what someone else said, but Limbaugh gets a slap on the wrist on Gretawire and David Gregory gets the blunt end of the wrath over this. Huh.
There are some who will condemn this segment because they believe Van Susteren should have dedicated more time to attacking Limbaugh. In fact, hers was the first name that came up for my colleague Alex Alvarez when the story first broke. I don't take this line; I do not believe Van Susteren should have done more on this story. But she shouldn't have done so much on other similarly inconsequential stories, either. I am of the opinion that every molecule of oxygen provided to this profoundly unpleasant and banal tale where every character is a villain fundamentally damages the fabric of American political discourse. But if the subject must be approached, if a segment on the matter needs to be produced, getting Karl Rove to bash David Gregory for Rush Limbaugh calling someone a "slut" makes the double standard that exists for Limbaugh versus any other respected conservative– and any other liberal– insulting to the audience's intelligence.
The segment via Fox News below:

Have a tip we should know? tips@mediaite.com