Greta Van Susteren Confronts 'Dem Candidate' Who Declared 'War on Fox News'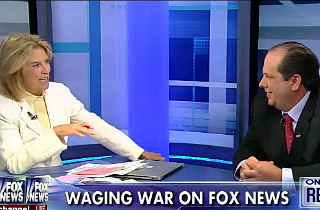 The Democratic (see update at bottom) congressional hopeful attempting to unseat House Majority Leader Eric Cantor (R-VA) took his "war on Fox News" to the news network on Thursday evening, facing off with host Greta Van Susteren.
Despite being a long-shot, Dickinson has made a name for himself in recent weeks by openly declaring his hostility to Fox News, the tea party movement, and the National Rifle Association.

Right out of the gates, Van Susteren pushed back against Dickinson's declarations. "Why do you hate me?" she asked. Dickinson responded that he doesn't hate her personally, but that he has a problem with her employing news network.
"Well, but no, what about me?" Van Susteren pressed. "I'm Fox News, I'm 'trash' apparently, so what's wrong with me?"
Dickinson responded that, on Fox News, "the facts are misrepresented," while President Obama gets attacked on a daily basis. And then he conceded that he does not watch enough of Van Susteren's show to know whether she misrepresents the facts. The host accused Dickinson of having a potato in his ear when he accused her and the network of "encouraging people to go fight the government."
The pair's exchange became especially tense when Van Susteren confronted Dickinson over his misrepresenting his own professional background. Reading a letter Dickinson sent to a local newspaper claiming to be the CEO of Mid-Atlantic Show Clubs — a group of strip joints — Van Susteren asked: "That's really bad to portray yourself not as who you are, right?"
"I consulted for them," Dickinson replied.
"It says CEO of Mid-Atlantic," she pushed back. "Were you the CEO?"
"You got me there," he conceded.
The conversation concluded with Dickinson refusing to take back his "War on Fox," and with Van Susteren calling him a "piece of work."
UPDATE: As it turns out, Dickinson is NOT a "Democratic candidate" for Congress. The deadline for nomination to run in Virginia's 7th district passed hours before his Fox appearance. Dickinson never filed, nor did he disclose to Fox that he was not actually a Democratic candidate. Read more about that here.
Watch below, via Fox:
[h/t TheBlaze]
— —
>> Follow Andrew Kirell (@AndrewKirell) on Twitter
Have a tip we should know? tips@mediaite.com