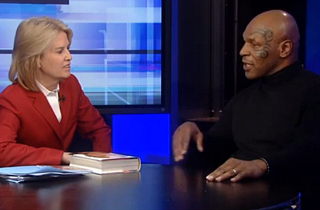 In an online extension of her Thursday evening interview with Mike Tyson, Fox's Greta Van Susteren confronted the boxing legend over his highly-controversial 2011 remarks about then-Gov. Sarah Palin (R-AK) receiving a "wombshifter."
"I know you," Van Susteren said to her guest, "I've seen you with the pigeons, I've seen you with your family, but then recently — I didn't understand this — you were on a radio show and you said something very hurtful about raping Governor Sarah Palin."
"I never said that," Tyson defended. "You must have misquoted something, I never said anything bad about Mrs. Palin being raped."
He then explained what he meant by the "wombshifter" remark:
I made a comment about her having sex with a black man; her being such a streak right-winger. Somebody was doing the research and she was having a love affair with a black basketball player. And I said, um, the gentleman that she had an affair with was a very kind, nice guy, very likable guy. And I said that wouldn't make big news: a black guy and a white woman being involved. And I said she needed somebody more outrageous, maybe like Dennis Rodman or somebody, then that would be big news. But the gentleman she had a relationship with before was a very kind guy, and that wasn't anything bizarre.
Van Susteren responded that the remarks came off as "derogatory towards women." With that in mind, she asked, "Would you apologize for it?"
"I didn't say anything derogatory," Tyson said. "I didn't find a reason to apologize."
When Van Susteren said she'd "agree to disagree" on this issue, Tyson told her she "must have made a mistake because if you play it back, there was nothing being said about anybody being raped or anything."
One quick note: For all the outrage Van Susteren expressed over the "wombshifter" remarks back in 2011, it's quite bizarre that she didn't confront the boxer with his actual words. Instead, she somehow "forgot" the quote and danced around ever mentioning the words he said — maybe it was for P.C. reasons; maybe it was because she genuinely forgot. Either way: Not exactly the best method for confronting someone.
Watch below, via FoxNews.com:

[h/t GretaWire]
— —
>> Follow Andrew Kirell (@AndrewKirell) on Twitter
Have a tip we should know? tips@mediaite.com