Greta Van Susteren Covers Herman Cain Without On-Air Disclosure Of Husband's Consulting Gig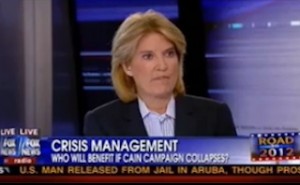 Given the recent spate of news regarding Herman Cain's alleged extramarital activity, it makes sense that Greta Van Susteren would provide coverage and analysis of Cain's campaign, as she did last night in two separate segments. What's surprising, however, is that she never disclosed her husband's relationship with Cain on-air. Even more shocking? Fox News EVP of programming Bill Shine doesn't appear to care.
ABC News reported last night that D.C. based lawyer John Coale, also known as the husband to Fox News 10pm host Greta Van Susteren, is not only friends with Cain, but also acting as informal adviser to the embattled presidential candidate. Writing for ABCNews.com, Shushannah Walshe reports:
John Coale, a Washington lawyer and husband of Fox News Channel's Greta van Susteren, is friends with Herman Cain and now informally advising the embattled candidate as he faces allegations by a Georgia woman of a 13-year consensual affair.

Coale described Cain's state of mind while dealing with the allegations as "upset that this has come up, as anybody would be."

On a conference call with staff this morning, which Coale was on although his role is unpaid, Cain said he is reassessing his campaign and whether to stay in the race in light of these new allegations.

Coale said Cain has asked him for advice on whether to stay in the race, but he didn't reveal details of the conversation.
To call John Coale a D.C. insider is a bit of an understatement. The DC-based lawyer is well known as having very close relationship with Sarah Palin, which some observers claim is the primary reason why Palin appears on Van Susteren's show so often, particularly choosing this venue for many of her most newsworthy announcements. Van Susteren made this very point in a blog post titled "HUSBAND ADVISING? I think it is more like 'living in Washington and knowing lots of people.'" In it she wrote:
Under the headline….never dull….

Here is a partial list of my husband John Coale's Washington friends:

Gov O'Malley (D)

Gov Palin (R)

The Clintons (D)

Speaker Gingrich (R)

Leader Pelosi (D)

Senator Santorum (R)

Congresswoman Bachmann (R)

Senator John Kerry (D)

Mr. Herman Cain (R)

…and perhaps my favorite, his fraternity brother Congressman Ruppersberger (D)! [You should hear THESE stories!]

The list above of political friends is certainly not complete. My husband has lived in Washington for a long time and has lots of friends and he makes friends. You will note that some of the friends above are Democrats, some are Republicans. What you may not know is that some of the above are even friends with each other despite political differences.
Van Susteren then makes plainly clear that if you define being an adviser in professional terms, Coale is no such thing, writing:
My husband has never worked for any of them nor taken a dime from any of them. He is not a lobbyist (never has been) and he is not looking for a job. These are simply his friends…people he finds interesting. As friends, he gives them advice, and they give him advice….he tells them things and they tell him things. I suppose his years as a lawyer makes him a good source for advice and just conversation.
Van Susteren is known to consistently provide a "fair and balanced" program, and doesn't necessarily fit in the same canon of opinion media stalwarts as Sean Hannity, who precedes her, or MSNBC's Lawrence O'Donnell, with whom she competes every night. That said, for her to cover a presidential candidate on her show, and not disclose her husband's relationship, is pretty bush league.
Mediaite reached out to the office of Bill Shine. As the EVP of Fox News Programming, he is the individual most responsible for the content provided by Van Susteren. Via a spokesperson, Shine refused to answer why Coale's relationship wasn't disclosed on air. He simply referred us to Greta's blog.
Given the cozy relationship many in the D.C. media have with politicians, it's not that abnormal for two sets of career professionals to overlap. But when they do overlap, it is incumbent upon anyone who expects to be treated as a respected journalist to disclose relationships that would call to question one's coverage and analysis (see George Will's wife and the Rick Perry campaign as an example.)
Disclosures are a necessary component of journalistic integrity, and to dismiss it to a barely-read blog post, instead of an on-air comment, raises questions about the journalistic standards to which Bill Shine hold his own network. If Van Susteren is going to cover Herman Cain, and her husband is an adviser, then that fact should be front and center, and On the Record.
Have a tip we should know? tips@mediaite.com
Colby Hall - Founding Editor