Greta Van Susteren Destroys Trayvon Martin Family Attorney For Saying Her Job Is To Be A 'Social Engineer'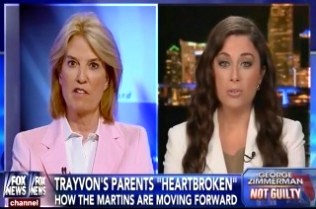 A fiery confrontation erupted between Fox News Channel anchor Greta Van Susteren and Tryavon Martin family attorney Jasmine Rand on Monday night after the lawyer argued that it was her job as a legal counsel to also be a "social engineer." Her comment spurred Van Susteren to blast Rand for not properly understanding her role as an attorney and for presumptuously questioning the decision reached by a jury.

Rand was openly critical of the jury's decision to acquit George Zimmerman of culpability for the 2012 shooting death of Martin in her appearance on Fox News.
"I don't think that they properly considered the evidence," Rand declared. "If they had listened to the evidence and they had followed the law, then George Zimmerman would have been convicted of murder."
"You're a lawyer, right?" Van Susteren asked sternly. "It's your duty — it's not mine, it's not yours, or anybody else — but it's the jury's duty to weigh [the evidence]. All of the sudden, suddenly, afterwards you say they can't do their job?"
"I have a greater duty beyond being an attorney, and that's to be a social engineer," Rand shot back. "And when the law doesn't get it right, I believe that we have the right to peacefully, and morally, conscientiously object to the decision of the jury."
Van Susteren did not appreciate what she called Rand's "deeply disturbing" response. The Fox host said that she knows Rand is aware that many of the Americans protesting the verdict did not watch the case as intently as the jury did and is not as aware of the facts of the case.
"This social engineering? I don't know. That's more like social manipulation," Van Susteren said. "Justice is presented in a courtroom with both sides having an opportunity. That's justice."
"Courtrooms do not always deliver justice," Rand countered. "You're aware of the civil rights movement."
"I bet if we put my career up next to yours in terms of yours on civil rights and what we've done in a courtroom for poor people, I'll put my career up against yours any day you want, jasmine," The Fox host declared. "I just don't criticize juries."
Rand said that she meant by invoking the term "social engineer" that Zimmerman would not have been arrested in the first place were it not for the outcry from American minorities demanding the state indict Zimmerman on some charge.
If Van Susteren had the time, it's likely that she would have informed Rand that criminal indictments in America are not handed down as a response to unrest. Further, maybe Van Susteren would have mentioned that the state could not convict Zimmerman after, by her own admission, they charged him only as a result of the public clamor.
But Van Susteren delivered an effective dressing down nonetheless. It was glorious to watch.
Watch the exchange below via Fox News Channel:
> >Follow Noah Rothman (@NoahCRothman) on Twitter
Have a tip we should know? tips@mediaite.com