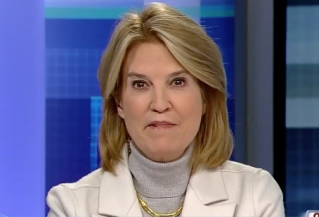 On Thursday afternoon, Fox's Greta Van Susteren expressed her annoyance with CNN for a Sports Illustrated web article that referred to her and former colleague Roger Cossack as cable news "bloviators."
"This is funny! Roger Cossack and I are called bloviators on a CNN hosted website when it was CNN who hired us…for what, to bloviate?" she asked on her personal blog, punctuated with a smiley face emoticon.

The SI article in question looks back on the infamous O.J. Simpson murder trial from 20 years ago, noting that the televised proceedings "minted a generation of cable bloviators," singling out Cossack and Van Susteren.
"Really? bloviators? that how Roger Cossack and I are described on a CNN hosted website," Van Susteren repeated herself. "That is funny. I don't care if I am a bloviator or not but it is a amusing that we now get called bloviators on a website hosted by the very people who hired us to…well….bloviate. CNN sure wanted us back then," she added, once again punctuating her sentence with a smiley emoticon.
As if to suggest she's actually pretty wounded by the "bloviator" comments, Van Susteren then went after the article's authors:
The article (link) has a byline for a Greg Bishop and Thayer Evan. I don't know who they are but I will put Roger's and my credentials (legal and TV and journalism) up against theirs any day of the week. It sure is easier to post an article on the web (and yes, bloviate), than it is to go to law school, take the bar and spend years in the courtroom trying cases…getting real experience.
But, no, she doesn't care at all about being called a "bloviator."
Have a tip we should know? tips@mediaite.com