Greta Van Susteren Grills Fugitive WI State Senator On Continued Congressional Exile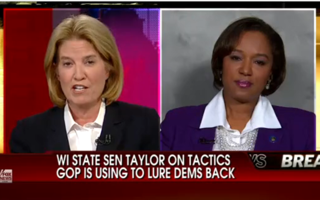 The Wisconsin state senators hiding out in a remote location of Illinois are still at large two weeks later, and some in the media appear to be getting frustrated with their time out. Greta Van Susteren, for one, took State Senator Lena Taylor to task for continuing to hide out, finding no reason for the group not to return and vote on the bill. Needless to say, Sen. Taylor did not take the criticism sitting down.
Van Susteren began by attempting to find some sort of definitive end to the exile, though Taylor only responded that, while the group "of course" was going to go home, "we're not going home today, and we're not going home tomorrow that I'm aware of." That said, Van Susteren tried to understand why the delay continued. "Now you've had more than fourteen days" to read the bill," she noted, citing the fact that the bill was to be passed far too quickly as the main reason the group left. Sen. Taylor replied that that was "not quite it," and attempted to explain further.
"The bill was going to be literally rammed through in three days," Taylor explained, emphasizing that "this was about slowing the bill down and really I'm glad we could do that." "Here's the problem," replied Van Susteren, noting that there now has been sufficient time to read and understand the bill. To this claim Sen. Taylor replied that the union opposition in Governor Scott Walker's agenda was a bit of a surprise to most of the state. "I think you might be one of the few that was surprised by his agenda," Van Susteren countered, though Sen. Taylor admitted to running against Walker for County Executive a long time ago.
The On the Record discussion via Fox News below:

Have a tip we should know? tips@mediaite.com