Greta Van Susteren Grills Senate Candidate Kendrick Meek On Florida Drop-Out Controversy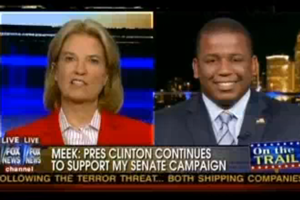 As the gap between GOP Senate candidate Marco Rubio and his two challengers, Democratic candidate Kendrick Meek and Gov. Charlie Crist, widens in Florida, allegations have arisen of Democratic operatives– namely, Bill Clinton— trying to get Meek to step aside. Meek refuted the rumors to Greta Van Susteren yesterday, who proved a tough enough interview that he compared it to being cross-examined.
"I'm not going to sell out to the people of the state of Florida; I'm not going to start now," Meek told Van Susteren as she asked him about the temptation to step aside. He staunchly defended President Clinton, who he said had been to about eleven of his campaign events, and told Van Susteren that "he didnt try to persuade me."
Governor Crist, on the other hand, was a different story. "Governor Crist called me at 5 AM in the morning… I think he's a very desperate campaigner," Meek told Van Susteren, who inquired more about the mysterious call. Meek explained that the governor apologized for calling so early but prodded him to step aside, arguing that "I really think if you could just get out of the race, I think I could win."
Sensing something fishy about this story, Van Susteren inquired further, prompting Meek to protest that "I feel like [I'm in] a cross examination here!" to which the former explained that the story was "very confusing from our end." In other words, both Crist and the Democrats requested Meek step aside without offering any incentive?
Meek joked away the question. "There's very little Charlie Crist could offer me," he told Van Susteren, "the only thing he can offer me is his vote, and I don't think I'm going to get that." Van Susteren insisted that this was bizarre, to which he replied that "it's not up to me to understand the desperation of another candidate in the race."
Van Susteren, who, to her credit, got a pretty strange anecdote out of Meek regarding that early morning phone call, adds as a postscript to her interview that Meek is now saying he was offered some incentive to drop out of the race, which seems to explain the joking nature of his initial response to her. The whole tense interview from last night's On the Record via Fox below:
Have a tip we should know? tips@mediaite.com