Greta Van Susteren: 'Of Course The Obama Administration Is Trying To Punish Fox News Channel'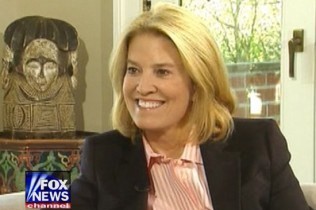 Monday evening, Fox News' On the Record host Greta Van Susteren took to her "GretaWire" blog to express her belief that the Obama administration has been trying to punish Fox News Channel for its persistent coverage of the government's response to the September 11th attacks on the U.S. consulate in Benghazi, Libya.
"Of course the Obama Administration is trying to punish Fox News Channel — I wasn't born yesterday! Don't believe me? Read this post and then tell me what you think," Van Susteren titled the blog post.
The Fox 10 p.m. host began the post quoting the New York Times: "At Fox News, there's a palpable sense that the White House punishes the network for its coverage, not only by withholding the president, who has done interviews with every other major network, but even by denying them access to Michelle Obama."
"I have no idea about access to Mrs. Obama or not," said Van Susteren before adding that she does know that, when he was still a senator, Barack Obama appeared on her program and he "enjoyed" the experience. She added that the president has an outstanding offer to appear on On the Record, but that she understands he is not obliged to make an appearance due to other commitments.
However, she said, "since Fox has aggressively asked the Administration for answers to the Benghazi 4 murders, Fox has twice been excluded from major media briefings. Two out of two! Accident? Coincidence?"
Van Susteren then rattled off several instances of her network being excluded from press briefings, the first being "a conference call briefing the State Department held about Benghazi – after Fox started to push for answers. The State Department invited all the news organizations except Fox. The State Department said it was an oversight that Fox was excluded from this briefing. I didn't believe it then and don't believe it now but whatever."
The second exclusion: "last week when the CIA finally gave a briefing about Benghazi to every news organizations except Fox. Fox was not invited."
Van Susteren then explained that she believes this exclusion was "deliberate" because Fox has been asking for answers in the Benghazi story. "The CIA and the Administration is trying to punish us so that we 'learn not to ask them questions they don't want to answer,'" she wrote.
She continued on:
Why wasn't Fox invited to these briefings? No one here at Fox has told me anything (I don't even know if Fox said anything to the Obama Administration about it and I have not asked) but I wasn't born yesterday. The Obama Administration is trying to send Fox a message – back off!

I believe that Fox is getting punished for doing its job. We simply persistently ask pointed questions about the murder of 4 Americans. We didn't buy the Obama Administration's silly story (video/protest) and so now they seek to punish us with exclusion.

Frankly, the exclusions from these two media wide briefings only make me more suspicious the Administration is hiding something. People who are telling you the truth don't try and punish you like this.
Full Greta Wire post here.
— —
>> Follow Andrew Kirell (@AndrewKirell) on Twitter
Have a tip we should know? [email protected]