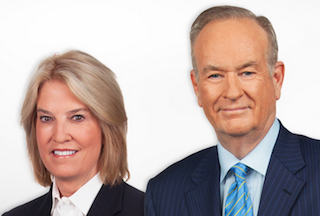 It looks like there is some disagreement among Fox News' prime time anchors over what constitutes too much coverage of the missing Malaysia Airlines Flight 370 plane. On one side, Bill O'Reilly has dedicated multiple segments over the last few days to his frustration with the "speculation" happening on "another network" about what happened to the plane. On the other, Greta Van Susteren wants all those "hand wringers" criticizing the extensive coverage to "get over it!"
While Van Susteren is careful not to mention her Fox colleague by name in a blog post that went up Wednesday morning, she may as well be talking directly to O'Reilly. "Have they forgotten that 239 people are missing or perhaps murdered?" she asks of the media critics. "The possible murder of 239 is not a drive by report. 239 people missing or murdered is not inconsequential."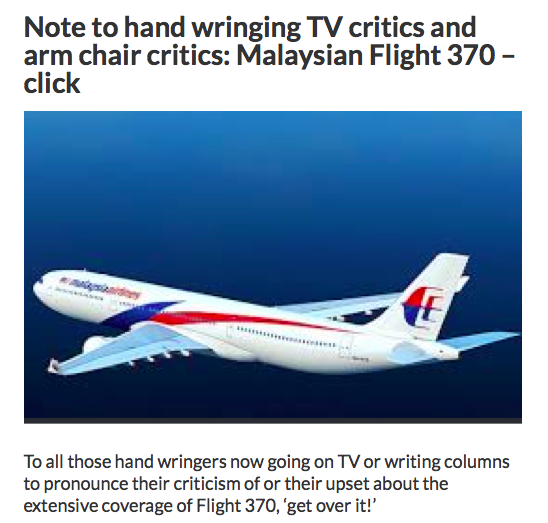 "If you are truly not interested in it, stop talking about it," Van Susteren writes. "There are plenty of other issues and news stories to talk about or write about (this is a big world with lots of troubles) — so, have at it! Write about those, talk about those, report on those! No one is stopping is you."
She argues that the only way the Malaysian government is going to keep cooperating on the investigation with the U.S. is if the media continues its intense focus on the story. "I happen to think intense media scrutiny has the power to make governments want to do their jobs… or at least try harder," she concludes. "They hate the spotlight."
Meanwhile, in the time slot that directly follows Van Susteren, O'Reilly spent a good portion of his show last night arguing that coverage of the missing plane has been a "farce," asking, "When does Godzilla come in?" Last Friday, he issued his thinly-veiled attack on CNN for "wasting your time" by "guessing" at what might have happened.
RELATED: CNN Becomes Your One-Stop Shop for Malaysian Airline Speculation
Both hosts have good reason to be defensive about the issue as the missing plane story has completely upended the typically steady cable news ratings landscape. Last week, O'Reilly lost his time slot in the 25-54 demo to CNN's Anderson Cooper three nights in a row for the first time ever. Cooper's victory appears to have been short-lived however, with O'Reilly sitting at #1 again on the first two nights of this week.
But Van Susteren might even be taking a bigger hit. Last night, when O'Reilly, Megyn Kelly and Sean Hannity were all back on top in the demo, Van Susteren still lost to CNN's Erin Burnett by 30K viewers.
While CNN has made a unified decision as a network to go wall-to-wall on the missing plane story, with or without substantive developments, the direction over at Fox News cannot be so easily defined.
Watch O'Reilly's latest rant against Malaysia Airlines coverage below, via Fox News:
For more of Mediaite's coverage of the missing plane, check here.
[photo via Fox News]
— —
>> Follow Matt Wilstein (@TheMattWilstein) on Twitter
Have a tip we should know? tips@mediaite.com