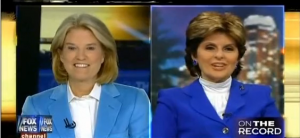 Last weekend, lawyer Gloria Allred was ripped to shreds when she appeared on Greta Van Susteren's show to discuss former housekeeper Nicky Diaz Santillan's lawsuit against California gubernatorial candidate Meg Whitman. But even though Van Susteren called her "delusional" and accused her of blackmailing the former eBay CEO, Allred elected to appear "On The Record" again yesterday.
"I bet you didn't think she would come back," Van Susteren said by way of introduction. "Well, she's here."

Their second conversation was supposed to focus on the wage complaint Diaz Santillan is making against Whitman, in which she claims Whitman would sometimes pay her for 15 hours of work a week even if she worked 18 hours. In the end, of course, it devolved into shouting—though this time, both parties got in a few good jabs before the fight ended. Here's a play by play of the sparring match.
From the very beginning of the interview, Van Susteren was ready with another barrage of hard-hitting questions for Allred. She asked the lawyer if she ever considered going to Whitman privately and offering to seek a settlement, rather than making the case public; this, she argues, would have been the best thing for both parties, since Diaz Santillan would not have been put in danger of being deported, while Whitman would have been able to avoid a media "circus."
Allred replied that there was no "requirement" that she seek a settlement, then said that Diaz Santillan "wanted to speak out—and she has a right to speak out." The lawyer seemed to be on steadier ground in this second interview, pausing less and using more convincing talking points.
Eventually, though, the two women got into a quickly escalating argument that looked a lot like their first bout. Van Susteren told Allred that she still "can't get past the whole charade thing. It begins to—it looks so much to me like this is so gaming the election. That this is not a fair way, this is not the way lawyers typically actually do try to help their clients."
That's when Allred started to lose her ground again—rather than arguing that she believes what she's doing is right, she only said lamely that there's "no law" saying she should "do things the way typical lawyers would do them." Her claim that Diaz Santillan is "no one's puppet" might have been stronger if the plaintiff were speaking for herself, or if she hadn't spoken out so conveniently close to the election.
Van Susteren seized on that last point, again making it clear that her main issue with the lawsuit is that Allred seems to be politically motivated. As she said, a lawyer's first job is to "protect a client—not throw the client out to the wolves." Allred, though, could be placing her client at risk for deportation by outing her as an illegal immigrant.
Unprompted, Allred then made a point of saying that Diaz Santillan is a very intelligent woman, before saying that the suit is about neither politics nor money—Diaz Santillan just wants people to know how she was treated as an employee of Meg Whitman.
"When she lied and violated the law?" Van Susteren shot back. "She's not the ideal spokesperson for this issue."
"Well, then maybe Meg Whitman is not the ideal person for governor," asid Allred.
And then the heat was on again: "You can't keep making this stuff up," Van Susteren said after Allred again claimed that Whitman knew Diaz Santillan was in the country illegally. "You have the document where your client lied … You just can't make this stuff up because that's what you want it to be."
"And you can't spin it just to support Meg Whitman, although you may try," Allred snapped back.
The conversation ended with Van Susteren abruptly cutting off her guest: "You know what, Gloria? I gotta go. But I do hope you come back, and I'll invite you back."
"Always a pleasure, Greta," Allred answered. We feel the same way, Gloria. Anyone else think these two should get a Parker/Spitzer-esque show together?
Have a tip we should know? tips@mediaite.com