Gretchen Carlson And Chris Wallace Fight Over Romney's Attack On Obama After Ambassador's Death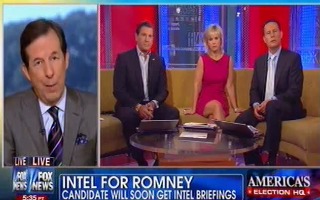 Fox News Sunday host Chris Wallace appeared on Fox & Friends on Friday where he was asked by the hosts for his thoughts on Republican presidential nominee Mitt Romney's controversy attacks on President Barack Obama for his handling of the hours-old crisis unfolding in North Africa on Tuesday. He got into a heated back and forth with Gretchen Carlson over his claim that Romney probably wished he could take back his press conference on Wednesday.

In a segment promoting Wallace's Sunday lineup, Brian Kilmeade asked for his reaction to Romney's attack on the Obama administration after a statement was released by the American embassy in Cairo condemning the American filmmaker who released a movie trailer which insulted Islam and sparked protests across the Middle East.
"Do you have a problem with that," Kilmeade asked.
"I don't have any problem with Romney's initial reaction to the memo," said Wallace. "I think the news conference the next day – when he continued to harp on the memo when we found out that four Americans had been killed in Libya in Benghazi, including the ambassador – I think if he had that to do over again, he might reconsider that."
"Wait, he would do that over again," Carlson interjected.
"If I may, Gretchen," Wallace replied, cutting her off. "Having said that, there is a legitimate question to be argued about the president's foreign policy and I think that's a debate we should have."
"Mitt Romney should have a do over on the press conference or the reporters asking the same questions six times," asked Carlson.
"Both," Wallace replied. He said that issue on Wednesday morning was not the controversial memo from the Egyptian embassy but the four dead U.S. service personnel.
"The reporters were asking the questions, not Mitt Romney," said Gretchen. "The reporters could have asked all those kinds of questions, but they didn't."
"I'm not getting into an argument with you about this, Gretchen," Wallace replied.
"I'm just debating the issue," said Carlson.
"Well, I'm not debating," Wallace said conclusively.
Watch the segment below via Fox News Channel:
> >Follow Noah Rothman (@Noah_C_Rothman) on Twitter
Have a tip we should know? tips@mediaite.com