Gretchen Carlson Catches Steve Doocy Citing Pre-Newtown Poll To Support Claim Most Don't Care About Guns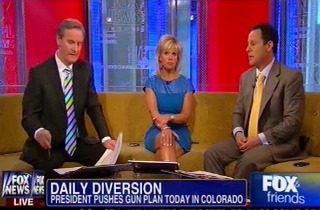 On Wednesday, the hosts of Fox & Friends previewed President Barack Obama's push for new gun laws and a likely vote in the Senate next week on a stricter background check proposal. Amid the conversation, host Steve Doocy claimed that guns were not a legislative priority for even a small minority of Americans. He cited polling that showed Americans are not concerned about guns or gun control. Gretchen Carlson jumped in and countered Doocy's claim by noting that the poll he cited was taken in October, well before the December 14 massacre in Newtown, Connecticut.

RELATED: Lobby Is As Lobby Does: Why Pressuring The NRA To Back Gun Control Will Never Work
"Why is the president right now, and next week as well, pushing gun control?" Doocy asked. "Take a look at a Fox News poll from October of 2012."
The poll Doocy pointed to showed that a near majority, 44 percent, were most concerned about the economy and jobs. Guns or gun control did not even register with voters as a priority.
"That was before Sandy Hook," Carlson noted.
"I understand, and we have seen that, you know, in the wake of Sandy Hook, suddenly a lot people were for a lot of things that they're not for as strongly today given the time," Doocy added.
"People really want to hear about 'where are the jobs,'" he continued. "We want to know about what's going on with the Euro and Cyprus, and can that happen here? And what about North Korea? But rather than talk about those things, we're talking about this."
Carlson replied that she did not believe that gun control was a distraction, but that Obama was focused on achieving a lasting legacy. Brian Kilmeade said that, if Carlson is right, gun control will not be where Obama archives his legacy because it is "a disaster for him."
Watch the clip below via Fox News Channel:
> >Follow Noah Rothman (@NoahCRothman) on Twitter
Have a tip we should know? [email protected]