Gretchen Carlson Competes With Bill O'Reilly For Title Of Christmas' Bravest Defender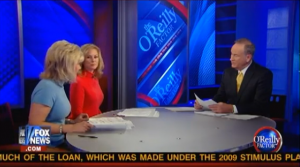 Signs that the holiday season is well underway: Discounted Halloween candy collecting dust at your local pharmacy, WHAM's "Last Christmas" playing in every store (as well as in the apartments of certain bloggers), and, most of all, Bill O'Reilly discussing the War on Christmas.
On The Factor Thursday, Bill O'Reilly discussed this ongoing battle against all things Christian and traditional with guests Gretchen Carlson and Margaret Hoover. Hoover, for one, thinks the "War on Christmas" is currently in retreat. Carlson, however, was quick to note that a state-funded cancer center in Charleston, South Carolina recently gave Santa Claus the ol' heave-ho (…ho, ho) right on his jolly old rump, citing a possible "conflict of interest." Thankfully, St. Nick was eventually invited to return and spread good cheer to cancer patients.
RELATED: Eric Bolling Reacts To Reported Federal Christmas Tree Tax…By Wearing Sparkles!
O'Reilly seemed most bothered by the reality that he's so alone in this fight:
No other media people fought the war. In fact, most of the liberal media attacked me — your humble correspondent — for actually standing up for Christmas.
"And me!" Carlson piped in.
"Somewhat," was O'Reilly's dry response.
The panel then tackled a story out of Massachusetts, where a town placed a curfew on Christmas lights due to global warming. Ewwwww! Fortunately, there will be no such curfew this year, as residents are free to shine their light displays straight on through to next Fourth of July.
Carlson then recounted a very sad story demonstrating how the liberal vultures have sunk their collective claws into her very own son, forcing him to transform a happy Christmas carol into a secular, soulless holiday jingle devoid of any relevance or meaning.
"And the great tragedy of this," mused O'Reilly, "is that your son is 32 years old."
Have a look at the full segment, from Fox News:
Have a tip we should know? tips@mediaite.com