Gretchen Carlson Defends Cory Booker Over Report That He's 'Dead' To The Obama Campaign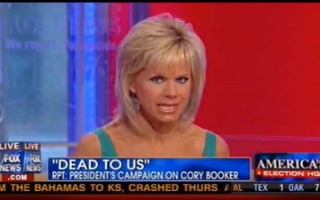 On Friday, Fox & Friends took a moment to look into a New York Post report claiming the Obama campaign has announced that Barack Obama supporter and Newark mayor Cory Booker is "dead to us" following comments he's made in the press.
From the Post:
"He's dead to us," one ranking administration official said of the prevailing feelings at the White House and Obama headquarters in Chicago.

Booker had been angling for the housing secretary gig in a second Obama term, according to sources in the administration and close to the mayor.

The job was certainly a possibility, given Booker's work in New Jersey's biggest city, according to administration and Democratic Party sources.
Booker, you'll recall, had expressed his disagreement with how the campaign had gone after rival candidate Mitt Romney's past at Bain Capital.
RELATED: On Maddow, Cory Booker Blasts GOP For 'Manipulating' And 'Exploiting' His Meet The Press Comments
But something about that didn't sit right with host Gretchen Carlson, who praised Booker while putting his actions into greater perspective:
There's a couple of things, though, that don't add up to me," noted "[Booker] has also been out campaigning for President Obama again, so he can't be that dead. I mean, he did a West Coast trip for him. Unless he's trying to earn favor back. I don't know. But you know, Cory Booker is a smart guy, he's well-liked by a lot of people. He's a successful mayor in Newark, New Jersey. And whether or not, you know, he becomes HUD Secretary, I don't think that defines where his career is going later on. And, by the way, President Obama may not win a second term, so it might not matter.
Have a look, via Fox News:
Have a tip we should know? tips@mediaite.com