Gretchen Carlson On ABC Reporting Shooter Was Tea Party Member: 'Bigger Than Just Making A Mistake'
Gretchen Carlson On False ABC Report On Shooting: 'Bigger Than Just Making A Mistake'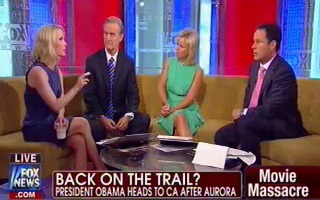 On Monday's Fox & Friends, co-host of The Five, Dana Perino, joined the cast where they discussed the Colorado mass shooting from Friday and its implications on the presidential campaign. When they brought up the erroneous early report by ABC News that linked the alleged shooter to the tea party, Perino said that the fallout from their mistake would tarnish all news media outlets — not just ABC. Co-host Gretchen Carlson said "I think it's actually bigger than just making a mistake," and suggested that there was bias at work in the ABC Newsroom that led them to run with that report.

RELATED: UPDATE – ABC Corrects Report: ABC News' Brian Ross Links Colorado Shooter To Local Tea Party
After complimenting both President Barack Obama and Republican presidential candidate Mitt Romney's campaign's for focusing on the Colorado shooting victims and not politics in the wake of Friday's attack, Carlson asked Perino when she thought the campaign would regain steam.
Co-host Brian Kilmeade said that he hoped the attack would prompt a more thoughtful political dialogue. "I hope we change the dialogue," said Kilmeade. "Can we make it a more intelligent debate?"
"I thought it was very good that the gun control conversation that people wanted to have actually isn't getting as much traction as usual," said Perino. She said she thought that the public debate has focused more on mental health and prevention of tragedies like these via more proactive diagnoses of mental illness.
Carlson then asked Perino how she thought ABC News' Brian Ross could have reported just hours after the shooting occurred that the alleged shooter was a member of the tea party – an accusation which Ross later apologized for after it proved false.
"I remember on Gabby Giffords – watching on Twitter – as soon as that happened, people not necessarily in the media that I follow were tweeting to me, 'this is not how we should solve problems,'" said Perino. "Immediately going to that – it was political. Turns out not to be."
Perino acted out what she thought might have been the newsroom decision making process that led ABC's Ross to go on the air with the news that alleged shooter James Holmes was a tea party member.
"They probably thought it was true," said Perino. "And instead of double checking which is—a first-year journalism student knows you should double check that beforehand. I think it was a real shame."
Carlson said that Holmes listed his politics on a dating website profile as "middle of the road."
"So, it's not political," replied Perino. "If I were ABC, I would be embarrassed."
She went on to say that "being first is not as important as being right."
"You can embarrass your whole network, your peers and yourself," said Perino. "He's a good investigative journalist. I would have, at least, hedged it more than they did." Perino said that the media would not be spared the fallout from ABC's mistake.
Carlson implied that there may have been bias at work. "I think there is a deeper meaning here that they immediately went to a political…"
"It does seem suspicious," said Perino.
Watch the segment below via Fox News Channel:
> >Follow Noah Rothman (@Noah_C_Rothman) on Twitter
Have a tip we should know? [email protected]