Gretchen Carlson On Obama's Late Night Appearance: 'I Think It's Nutso,' 'Lowers Status Of The Office'
Gretchen Carlson On Obama
Late Night
Appearance: 'Nutso,' 'Lowers Status Of Office'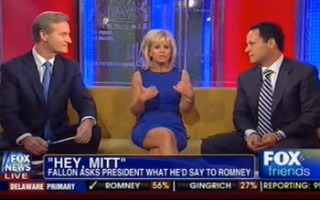 The Fox & Friends took some time Wednesday morning to weigh in on President Barack Obama's appearance on Late Night with Jimmy Fallon, wondering 1) what a "slow jam" is, exactly and 2) debating whether or not it ultimately hurts the status of the office to appear on nighttime comedy shows such as Fallon's. Host Gretchen Carlson, in particular, had very strong views on the matter.
RELATED: President Obama Slow Jams The News With Jimmy Fallon
"Jimmy Fallon does this thing on the program where occasionally he'll have a big star and the star will slow jam the news," explained Steve Doocy.
"What is slow jam?" Brian Kilmeade asked his co-host. "You grew up in rap." Fun fact: The "D" in "Run-DMC" actually stands for "Doocy."
They then showed a clip of Fallon referring to the President as the "Preezy of the United Steezy," like you do.
"Right now," said Carlson, "a bunch of former presidents are, like, 'Huh? That's what we do now when we're president of the United States?'"
"When you want the kids," said Doocy, referring to the President's recent focus on student loan debt and other issues facing young voters. Both he and Kilmeade actually seemed to have found the clip rather funny.
"I don't care," said Carlon. "I think it's nutso."
"I think it's very effective for President Obama," she later added. "I personally do not agree with the highest office of the land, the most important figure in the world going on these comedy shows. I think it lowers the status of the office."
Have a look, via Fox News:
Have a tip we should know? tips@mediaite.com