Gretchen Carlson To Jon Huntsman's Daughters: Why Is Your Dad At 0% In The Polls?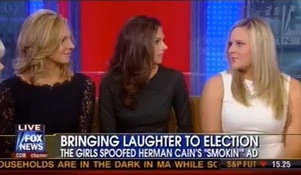 The daughters of Jon Huntsman appeared on Fox and Friends Monday morning and discussed their goofy new parody of Herman Cain's bizarre viral video that "shamelessly promotes" their dad. "This is kind of fun, we're all about humor and fun" explained Liddy Huntsman, the one who came up with the video and as her sister described, "the troublemaker of the group." Host Gretchen Carlson later asked why their father wasn't registering with the American public, which the daughters downplayed.
Carlson questioned the group about their snarky tweet campaign — including one that ripped on Mitt Romney that said, "How does Romney know anything about China? He's only been there once and that was for the Olympics. Panda Express doesn't count." "I think some people might be taken aback from that because in politics, you're supposed to do everything just perfectly," Carlson said. "What made you decide that you were just going to come out and be honest?"
"We wanted to make this light-hearted and funny," answered Mary Anne Huntsman. "We're not jabbing at any of the candidates at all. We're being honest and we are who we are." The sisters also responded to a tweet directed to the Romney brothers about their Mormon faith. "Everyone thinks we're all related since we both come from a Mormon background. so we thought it would be funny to be cousins," said Liddy.
Carlson eventually had to reveal the embarrassing statistic that their father was polling at 0% nationally and pointed out that Democrats and Independents were major supporters of their father's campaign. "The funny thing is, he has always stood strong on the core conservative principles," argued Abby Huntsman. "He's always been pro-life, pro-traditional marriage, pro-second amendment, pro-tax cuts. I don't know how this image came about, but he has to focus on things he's strong."
Watch the Huntsman daughters explain their role in their father's campaign below via Fox News:
Have a tip we should know? tips@mediaite.com