Gretchen Carlson: Did Serena Williams' 'Hater' Comment Have 'Racial Undertone'?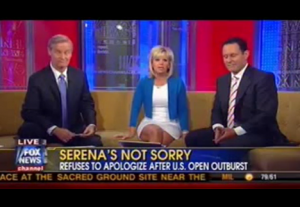 Fox and Friend's Gretchen Carlson was aghast at Serena Williams' tirade at the US Open, opining "This is what's wrong with our society today — that's the entitlement generation right there," and questioned whether Williams' use of the term "hater" had a "racial undertone."
During Sunday's women's final match, Williams chewed out chair umpire Eva Asderaki after she had called a code violation on the tennis star: "If you ever see me walking down the hall, look the other way, because you're out of control…You're totally out of control, you're a hater, and you're unattractive inside. Who would do such a thing? And I never complain. Wow…What a loser. We're in America last I checked. Can I get a water or am I gonna get violated for a water? Really, don't even look at me! I promise you, don't look at me, 'cause I am not the one. Don't look my way."
After reviewing the clip, Carlson sparred with co-anchor Brian Kilmeade about whether this was emblematic of the "entitlement generation". Kilmeade disagreed, and thought Williams's reaction was par-the-course for many tennis players, including John McEnroe and Jimmy Connors. A frustrated Carlson interjected, "Then they were all all bad role models for our kids," Kilmeade conceded that's what sells tickets. "That's sick," Carlson responded.
"That shows our kids that — I have no fault, I mean, this is what I combat with my two little kids all the time. If you are not a responsible parent to constantly say no, you need to take your own personal responsibility, you end up saying things like that."
Kilmeade thought if there was anything to learn from Williams' tirade, during a heated moment, don't call the referee unattractive on the inside or a hater, to which Carlson exclaimed, "A hater! Was that a racial undertone? I didn't quite get that."
Urban Dictionary defines "hater" as "a person that simply cannot be happy for another person's success. So rather than be happy they make a point of exposing a flaw in that person."
Watch the segment below, courtesy of Fox News:

Have a tip we should know? tips@mediaite.com