'Ground Zero Mosque' Given Go-Ahead After Judge Throws Out Lawsuit By Former Firefighter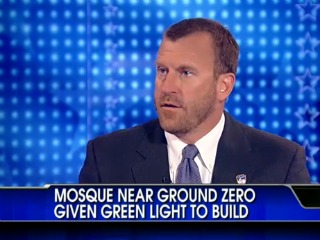 If it's summer, that means there's a story about Park51 – the large Muslim community center slated to be built two blocks from lower Manhattan's World Trade Center site. The New York State Supreme Court has dismissed a lawsuit attempting to stop construction of the center, essentially giving backers to go-ahead to erect the 13-story building.
Thursday afternoon, Fox News spoke with Tim Brown, a former New York City firefighter who responded on 9/11. Brown, along with "Families for a Safe and Strong America," unsuccessfully attempted to emphasize the historic value of the intended construction site and argue that building a Muslim center in that particular area diminishes his ability to fully commemorate 9/11. A judge dismissed Brown's lawsuit, upholding a previous decision by the Landmarks Preservation Commission that deemed the building unworthy of landmarking. Brown had argued that the decision was "unduly influenced" by Mayor Michael Bloomberg, who has been supportive of Park51:
The building had the landing gear of one of the planes go through the roof. So for people to say it's not on or at Ground Zero is disingenuous. For someone to say it's two blocks away is disingenuous; it's sixty feet from one of the buildings that collapsed, 600 feet. We can contend it is Ground Zero. A lot of our loved ones' remains were never recovered and that building has never been searched for remains. The fact that they continue to push this is very hurtful to us.
Brown continued, accusing Imam Feisal Abdul Rauf, the man most publicly associated with Park51, of spreading lies about the support he's received from the families of 9/11 victims.
Watch the interview, courtesy of Fox News:
Have a tip we should know? tips@mediaite.com