Grover Norquist: 'Tea Party 2 Is Going To Dwarf Tea Party 1 If Obama Pushes Us Off The Cliff'
Norquist: 'Tea Party 2 Is Going To Dwarf Tea Party 1 If Obama Pushes Us Off Cliff'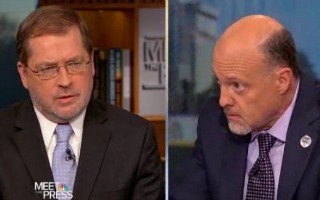 Anti-tax advocate Grover Norquist warned the panelists on Sunday's Meet The Press that the regulation and taxes which are part of President Barack Obama's health care reform legislation are due to be implemented in Obama's second term. In combination with the tax increases he is seeking as a resolution to the fiscal cliff, Norquist said that he believes "Tea Party 2 will dwarf Tea Party 1."

"He's talking about seducing – that the Republicans have been seduced. You talk about 'impure thoughts. This is not a pornographic debate, Grover," CNBC host Jim Cramer told the Americans for Tax Reform chief. "I know you don't want a recession. You don't want people laid off. You're going to sacrifice that on the cross of 2 percent. Is that what you want?"
"No," Norquist replied. "We need to have economic growth instead of higher taxes." He said that Reagan-era taxation levels would promote growth which would pay down the debt racked up in the last four years.
Cramer replied that the Clinton-era rates, which America will return to in January unless the fiscal cliff is resolved, netted more growth and revenues to the government than at any point in the 1980s.
Both Norquist and CNBC anchor Maria Bartiromo replied that this is simply a different economic and regulatory environment than the 1990s. Norquist specifically cited the president's health care reform law and the majority of its regulation and increased taxes which were designed to not be fully implemented until 2013-2014.
"We got four bad years of regulation, higher taxes. He wants to add more taxes to that. Tea Party 2 is going to dwarf Tea Party 1 if Obama pushes us off the cliff," Norquist concluded.
Watch the clip below via NBC:
> >Follow Noah Rothman (@Noah_C_Rothman) on Twitter
Have a tip we should know? tips@mediaite.com